Research
Philosophy Professor Addresses Intersex Ethics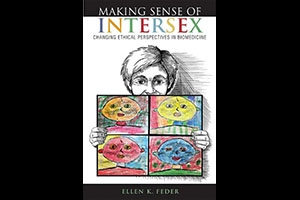 In 2012, philosophy professor Ellen Feder coauthored a paper on the ethics of using a prenatal drug that was intended to prevent the development of ambiguous genitalia in girls with congenital adrenal hyperplasia. Her book, Making Sense of Intersex: Changing Ethical Perspectives in Biomedicine, provides a fuller account of the ethical questions raised by the medical management of atypical sex anatomies in children. 
Feder didn't set out to write a book about intersex when, soon after she came to AU, she was asked to present a paper on intersex at the first session on the topic at the American Philosophical Association in 2000. But that one presentation led to another. And another. "Looking back, I see what I was doing over these years as working to clarify 'the problem' of intersex," she says. "Doctors—and often parents—see the problem as atypical genitalia, but learning more about 'the problem,' both as it is understood today and how it has been understood historically, led me to see intersex as a problem of moral responsibility, and of a failure—however well-intentioned—of physicians' and parents' responsibility to the children they care for." 
The more she studied the medical treatment of intersex and spoke with parents and affected individuals, as well as medical specialists, the more she felt a responsibility to convey the knowledge they had shared with her. "What I learned—especially from the stories that mothers of children with intersex told me—was not only the effects of lies and surgeries on their children, but how the deception and silence affected parents as well." 
Feder sees the labeling of atypical genitalia as "abnormal" as part of the problem. Normalizing medical interventions—altering the genitalia using surgical, hormonal, and other technologies—does exactly what the term implies, she says. "If atypical genitalia are regarded as 'abnormal,' then the interventions attempt to make that abnormality disappear, to make it seem as if there had never been anything atypical about this child's anatomy," says Feder. "The silence surrounding surgery is an integral part of the medical management of atypical sex anatomy." 
Rather than treating children with atypical sex anatomies as if the children themselves are abnormal, Feder believes that children should be treated just like anyone else. "Asking how they should be cared for suggests that there might be some difference in the way they should be cared for," she says. "But that's just it: They should be cared for as any child is entitled to be cared for, namely with love and respect and an openness to who the child is and will be." 
Feder hopes that readers take a different view of those born with atypical sex anatomies. "Not fitting in, being excluded from membership, is painful," she says. "Parents and doctors want to 'fix' children so that that they will feel this belonging and be spared the pain of abnormality. But what if we see the problem not in the bodies of children, but in the attitudes that make those with atypical sex anatomies not feel normal?" Making Sense of Intersex: Changing Ethical Perspectives in Biomedicine will be released on May 13, 2014, by Indiana University Press. The book earned a Publisher's Weekly starred review in January. 
Feder will present "Normalizing Atypical Sex Anatomies: A Question of Ethics or Culture?" at the last event in the 2013-14 Celebration of College Research series, open to AU faculty and staff, on Wednesday, February 26. More information can be found online.