MADELINE RENEE TURKELTAUB RN, PhD, CRNP, FAAN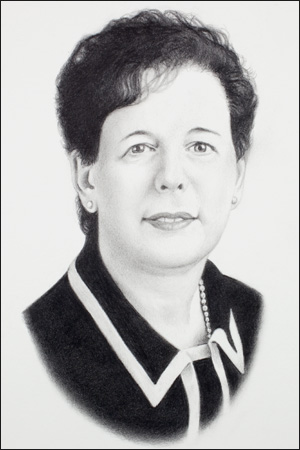 February 15, 1946 — June 21, 2008
Spinoza's emphasis on the embodiment of God as Nature leads feminists to consider his philosophy in a new light and brought to mind Madeline's conviction that women's control of their bodies is essential to fully embodying their myriad potentials. Spinoza's predicate that we are all of one substance and hard wired to empathize with those we love as a basis for ethical behavior leads to the acknowledgment that although we may not be able to love everyone, we can reason that everyone, including the least among us, be treated with charity and justice which resonated with Madeline's professional career:
As a nurse educator with an RN/BS from LICH (valedictorian)/LIU, an MS from UPMC (Distinguished Alumnus 2003), a PhD from UMCP in higher education and curriculum (recipient of the Louisa Parsons Award—Louisa Parsons was a student of Florence Nightingale and started the UM nursing school in 1889), and Nurse Practitioner Certification from GWU (Outstanding Alumnus 2001), Madeline developed the first baccalaureate nursing program at then Bowie College (the oldest HBCU in MD) following her tenure as Professor at PGCC (where she started and was President of one of the first corporate nursing education review services in MD).
She then was appointed Director of the Nursing Program at Montgomery College, MD (Outstanding Faculty Award) where for over a decade the Program under her direction graduated close to a thousand associate degree (AD) nurses to serve the community. While Director, Madeline also served as the President of the Association of Associate Degree Nurse Education Programs and the Maryland Council of Deans and Directors of Nurse Education Programs where she developed the Maryland RN to BSN Articulation Model. This Model, adopted by other states, allowed AD nursing students to transfer their AD credits to baccalaureate degree programs enhancing both their career potential and higher educational attainment—a goal of the profession. Madeline's contribution was recognized subsequently by her induction as a Fellow of the American Academy of Nursing.
While Director, AIDS became a full blown epidemic and Madeline was tasked by the college President with formulating the college's AIDS policy. AIDS public health policy at this time was in flux with AIDS paranoia rampant and no consensus. Madeline was very worried whether she would get it right. She submitted the policy to the President who informed her she would have to make a special presentation to the Board of Trustees for approval. She left for the Board meeting anxious and returned gleefully telling me the Board had unanimously accepted the policy and that Dr. John W. Diggs, a Board member and Director, Extramural Research, NIAID, a graduate of Howard, and first African-American Deputy Director of NIH, had taken her aside and told her he thought her policy could be a model for the nation and that, based on her presentation and ability to formulate, defend, and communicate a difficult public health policy issue, he would appoint her to the NIAID Advisory Committee on AIDS Education and Research Consortium of HBCU.
Madeline's work developing the RN to BSN Articulation Model was based on defining nursing competencies at the AD and baccalaureate degree levels and lead to her appointment to the National League of Nursing Committee on Competencies and the National Advisory Council on Nursing (appointed by Secy DHHS) which oversees the federal Nurse Education Act prompting MD Governor Schaeffer to appoint Madeline to the MD Board of Nursing where she served for 9 years, the last 4 as Secretary, then President of the Board. The Board is charged with regulating the nursing profession by ensuring compliance with the standards of practice and ethics specified in the Nurse Practice Act. In recognition of her contributions to nurse education (MD House of Delegates Official Citation) she was appointed to the Board and then elected President of the Maryland Nurses Association.
As Director, Madeline also coproduced and hosted over 150 half hour shows "Healthier Living" on cable TV for which she received the Media Award from the Maryland Public Health Association.
Concern with the nursing and healthcare shortage at the state and federal levels led to Madeline's appointment as Chair of the Robert Wood Johnson (RWJ) Project LINC Steering Committee based on successful co-authorship of a grant funded by RWJ and the Maryland Hospital (MHA). Project LINC permitted entry and mid-level employees to work part-time, attend school full-time, and receive a full salary helping healthcare employees overcome educational and financial barriers while advancing into jobs of increased responsibility and reward. "Several times a year I meet or hear about a LINC grad who is now in a leadership position in one of our hospitals. Maddy helped many, many people by her involvement in this project alone. Project LINC was a great success…the model continues to be used at many of our hospitals" (personal communication with C. Crowley, VP MHA).
Madeline's concern about the healthcare shortage and underserved led her to enter GWU's Nurse Practitioner (NP) Program, one of the earliest credentialed NP programs. As an adult NP (ANP), she served as VP of Patient Services at Suburban Hospital (subsequently appointed to the Board of Trustees and the first practicing nurse in MD to serve on a hospital board); Senior VP, Collingswood Nursing Center; NP at the Montgomery County Detention Center; NP for Montgomery County MD Adult Protective Services; NP for MD Women's Health Initiative; NP at GBMC Family Health Center located in "Pigtown"; and NP on the Governor's WellMobile providing care to the homeless and uninsured on a mobile medical unit in Baltimore City.
Madeline served on a number of Montgomery County Committees including the County Executives Task Force on AIDS, the County Blue Ribbon Committee on Care for the Indigent, and chaired a number of others such as the AIDS Community Advisory, Social Services, and Tobacco Restitution Fund. She was the first nurse to Chair the Montgomery County Commission on Health and was the recipient of the Montgomery County Executive Special Achievement Award for service to the medically underserved and the Hadassah Nurse of the Year Award. Most recently she served on the Board of MobileMed which provides care to the underserved in Montgomery County.
Personal experience delivering care as an NP in a variety of settings led to a faculty appointment at UMB where she developed the first ANP Program in Montgomery County, MD at the Universities at Shady Grove. Subsequently she coauthored the grant (DHHS) for developing the combined psychiatric certified nurse specialist (CNS)/ANP program and assisted in the development of the program at Shady Grove providing critical legislative testimony in Annapolis based on her prior experience as President of the MD Board of Nursing. This testimony led to PsychiatricCNS/ANPs in MD having prescriptive authority included within their scope of practice. She also coauthored the grant (DHHS) to develop the first nurse managed center in MD and was appointed to the AMA Nurse Practitioner Advisory Committee.
With her experience in direct patient care, hospital administration, nurse education and training, approaches to nursing workforce shortages, grant reviews, and prior experience at the local, state, and national levels, she felt she could make a bigger difference by working at the federal level by paying back for the support provided to her during her undergraduate and graduate nurse education from Federal Traineeship Awards. She was appointed Nurse Consultant at the Division of Nursing, HRSA, DHHS where she managed a $26 million program in the Nursing Education and Practice Branch (having previously managed a $100 million budget at Suburban Hospital).
As VP for Patient Services at Suburban Hospital, her role included Administrative Director, Clinical Nursing Research and Development. Based on her familiarity with regulations, compliance, and enforcement as a member of the MD Board of Nursing, she was appointed to the Institutional Review Board (IRB) of Suburban Hospital and subsequently named Chair, IRB. Madeline was the first nurse in the U.S. to serve as Chair of an IRB. This was considered so unusual the FDA sent a team to carry out a field inspection of the Suburban Hospital IRB. After a 3 day onsite inspection, the IRB was found to be fully in compliance with applicable federal regulations regarding human subjects protection and investigation.
During the course of her career, Madeline published articles and book chapters on a variety of nursing and clinical topics including musculoskeletal disease (she began her career as an orthopedic nurse and had written numerous text chapters on orthopedic nursing) and allergic diseases. Madeline worked part time in my allergy practice for decades and participated in allergic disease educational initiatives related to community awareness of asthma sponsored by the American Academy of Allergy and the Associates of the Academy which she helped organize and was named President subsequently. She coauthored a text on allergic diseases with a past president of the American Academy of Allergy. Thus with her nursing and clinical background, expertise in program management, regulation of clinical investigation, grant application review and IRB experience, she applied and was appointed as Clinical Research Project Manager, National Institute of Arthritis, Musculoskeletal, and Skin Diseases (NIAMS), NIH leading to her subsequent appointment as Deputy Director, then Director, Division of Extramural Research Activities (NIAMS). In that capacity Madeline also served as Liaison to the Office of Research on Women's Health and is listed in Women in Science at the NIH. "Maddy was a critical part of the institute's executive group and provided expert advice on so many things. It was her tremendous experience in many areas, good sense, and great judgment that underlay her abilities. She was also an extraordinarily warm and bright person who loved life and loved work." (S. Katz, Director, NIAMS).
Madeline is the first nurse (outside of the Nursing Institute) to hold the position of Division Director, Extramural Research Activities at NIH and as Division Director, Madeline, was the recipient of the NIH Director's Award for Excellence.
When Dr. Diggs had singled Madeline out at that Montgomery College Board meeting, Madeline was delightfully surprised that she had merited praise from a person of his stature. Twenty years later Madeline had fulfilled the promise Dr. Diggs had recognized so early in her career.
While Madeline pursued her career goals, for the first two decades of our marriage I was rarely home, working nights and weekends. Thus she had the primary responsibility for homemaker, raising our two beautiful children, Seth and Alyssa, organizer of family gatherings for holidays, birthdays, serving as den mother, swim club refreshment coordinator, PTA parent, Temple Board member, car pool organizer, practicing the flute, playing tennis/volleyball, a Redskin fanatic, while always having a freshly prepared meal and beautiful smile to meet me when I came home regardless of the hour. After our children married, she became a doting grandmother to Bradley, Payton, Kate, Jack and Justin.
Beloved friend, wife, mother, grandmother, daughter, sister, colleague, Madeline is missed dearly.

Paul C. Turkeltaub, MD