Communications
Alum's 'Astronaut' on International Space Station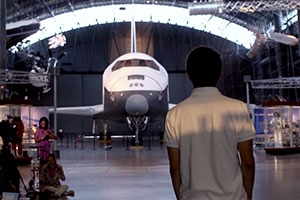 Virginia high school student Blair Mason has wanted to be an astronaut since he was three years old. Filmmaker David J. Ruck, (SOC/MFA '13) has already put Mason into orbit on board the international space station as the protagonist of Ruck's film I want to be an Astronaut.
Ruck tells Mason's story and highlights the importance of America's space program in his new documentary, which began as his master's thesis at American University. "This film draws attention to the importance of STEM education as it relates to our nation's ability to remain on the cutting edge of science and technology ­ and where we might be headed if we fail to inspire young people to pursue these fields," says Ruck.
From Facebook to Orbit
How do you snag a screening in earth's orbit? Ruck used Facebook to share the Astronaut trailer with International Space Station Flight Engineer, Rick Mastracchio. Hours later, Ruck had a message in his inbox from the Astronaut ­ orbiting above the Earth on the International Space Station (ISS) ­ requesting to see the entire film. The film was uplinked to the ISS on Friday, March 7, and the "Orbital Premiere" will be screened during the astronauts' time away from science experiments within the next few days.
Ruck tells USA Today, "To have this be seen in space — I still don't know how to find words to describe how awesome that is. "I hope (the crew) can see this kid and say, 'Yep, that was me once.' "
The film provides a glimpse into current NASA efforts amid a post­-space­ shuttle era, with insights from those who understand it best: NASA Administrator and astronaut Charles Bolden; John Glenn (Mercury 7 astronaut, first American to orbit the Earth and retired US senator); John Grunsfeld (Associate Administrator for the Science Mission Directorate, physicist, and astronaut); Dan Hendrickson (Director of Space Systems at Aerospace Industries Association), NASA engineers, and a former Shuttle worker.
Dreams of becoming an astronaut "embody a long­held, deep­rooted legacy," said Rich Evans, Social Outreach Coordinator for the film. "Our goal with this film and the conversations that follow is to remind everyone what NASA means to the world."
Ruck plans to screen the the film later this spring at AU and at the Humans to Mars Summit at George Washington University.
I want to be an Astronaut is a production of RÜBANGFILMS, based in Bethesda, MD. See some of his photographs and links to his work at: www.davidjruck.com.