Internships
Human Rights Campaign Internship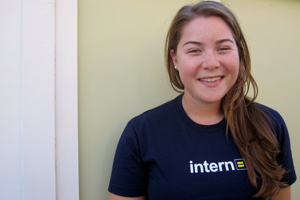 During the fall 2011 semester, I interned at the Human Rights Campaign (HRC), America's largest civil rights organization that works to achieve equality for lesbian, gay, bisexual, and transgender Americans. The HRC has a structured internship program, HRC University, which allows individuals to work in one of more than 20 program areas to develop professional skills and grow as an LGBT leader and advocate. I specifically interned for Youth and Campus Outreach, where I learned effective strategies for campus organization and activism while developing a greater understanding of issues the LGBT community faces today.
As an intern, I was given hands-on projects, encouraged to share my ideas, make connections, and grow as a leader. Throughout my semester there, I corresponded with student activists around the country, coordinated with colleges and universities on the HRC's Generation Equality bus tour, and maintained resources like the LGBT scholarship database.
Besides the hands-on experience I gained throughout my internship, the HRC University gave interns further knowledge of the LGBT community through weekly organized brown bag lunches. These lunches connected us with some of the foremost LGBT and allied leaders through educational seminars. Whether teaching how to effectively network or giving a two-hour interactive seminar on Transgender 101, I know that the HRC is invested in giving interns a positive learning experience.
In addition to the brown bags, HRC University is unique in offering mentorships to familiarize interns with more than one department and or program. Interns can expand their understanding of the organization and create professional relationships with numerous staff members. 
Towards the end of my internship, HRC interns were invited to a briefing at the White House on LGBT issues. Speakers from the Department of Health and Human Services, the Department of Labor, the Department of Housing and Urban Development, the Department of State, the Department of Justice, the Department of Defense, and the White House discussed important policies impacting the LGBT community today.
I couldn't have been happier with my time interning at the Human Rights Campaign. I feel that they invested in my knowledge and wellbeing as an intern. The skills and experiences I have accumulated are irreplaceable and will be carried through in my future endeavors.
American University has enabled me to expand my knowledge from inside the classroom into real world application in the workplace by allowing the opportunity to intern for credit and take classes simultaneously. This valuable experience allows a student to explore possible career paths and take a look into different work experiences, learning what type of work they might enjoy post graduation.  Throughout the rest of my time at AU, I plan on taking full advantage of this opportunity to learn through experience and hope to intern again in the upcoming semesters while taking classes.