Alumni Success Story
Better Education for Rural Romania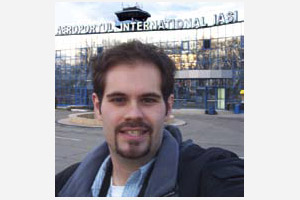 Over the past two decades, Romania's dramatic political and economic changes have made the country more reliant on its education system than ever before. For Romania's rural schools, which have been particularly underserved and underfunded for many decades, how best to improve educational quality and raise student academic achievement is a multimillion-dollar question.
David Banville believes that strengthening teacher quality is the answer. Currently a Fulbright scholar in Romania, the threetime AU alumnus is exploring the dynamics between teacher quality and increased accessibility to information technology.
"Romania's technology infrastructure is undergoing a huge expansion, with the country working to get high-speed Internet service available in all areas," Banville explains. "I'm looking at how to use that infrastructure to increase rural teachers' opportunities for professional development and collaboration."
Banville's research consists of two phases: The first involves collecting qualitative and quantitative data from teachers at rural schools located a few hours' drive from Bucharest and Iasi (pronounced "yash")—two of the country's largest cities—to learn what would make these educators more inclined to participate in Internet-driven distance learning.
The project's second phase involves working with Romanian policymakers and teacherdevelopment stakeholders to collaborate on a policy supporting improved distance-learning opportunities for rural teachers.
The seeds for Banville's research were planted in 2007. That spring, he visited SETH professor Fred Jacobs, who was in Romania as a senior Fulbright scholar studying the country's postsecondary institutions.
Banville credits his experiences at AU—where he earned a BS in computer information systems ('99), an MS in computer information systems ('01), and a PhD in education ('07)—for paving the road to his current endeavor. "Each degree at AU has been a unique experience, and I've gotten to meet a wide variety of people with such different experiences," he says. "It's given me a wellrounded, all-around sense of what I want to do."