Student Success Story
TESOL Student Heads to Mongolia for Peace Corps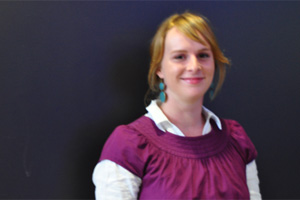 When Katie Leitch, MA TESOL '12, taught English to South Korean children for a year, she knew little Korean and had only a week of training. "It was terrifying," says Leitch. "I had no experience with children and I had no experience teaching, but I really liked the work." When she traveled to Mongolia on a similar adventure earlier this month, Leitch felt confident. Her 27-month journey is part of the TESOL Master's International Program (MIP), which prepares its participants to teach English abroad with the Peace Corps for academic credit.
"I did my best in South Korea, but having done [the MIP] program, I see so many ways that I could have been better," she says. Leitch's interest in teaching English began in 2008. After graduating from the University of Richmond 2005, she and her husband moved to South Korea and taught at after school programs for children that were somewhat proficient in English.
After returning to D.C., Leitch reflected on her experience in South Korea. "I was thinking about careers and what I wanted to do next and thought, 'I like teaching English. I know I want to live abroad again,'" says Leitch. She enrolled in AU's TESOL certificate program. After realizing how much she enjoyed her classes, Leitch decided to enroll in the more extensive MIP program.
That was a year ago. Now, with her coursework completed, Leitch is in Mongolia to complete the final part of her MIP degree. For the first three months of the program, Leitch will be placed in a small town and trained to learn Mongolian. She will then be placed in another larger town, where she will teach for two years.
Though Leitch taught English to teenagers during her time in South Korea, she is qualified to teach university-level students in Mongolia because of her training in the TESOL program. "It's really humbling," says Leitch. "I know I have a lot to live up to but I do really feel like this degree has prepared me. Even though I don't know everything and I don't have that much experience, I have resources now. If I have questions or problems with anything, I know I can e-mail my professors and classmates."