Student Success Story
When in Milan, When in Rome
Carol B. Ravenal Award winner Angel Reed shares her experiences in Italy.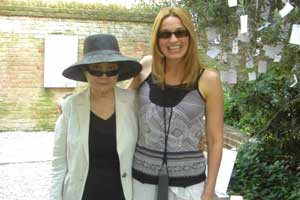 In April, art history graduate student Angel Reed received the Carol B. Ravenal Travel Award to complete study abroad program in Venice that summer. Funded through the support of former Department of Art professor Carol Revenal, the award is bestowed annually upon a student in the art history MA or studio art MFA program. Below, Reed shares her study abroad experience.
With the assistance of the Carol B. Ravenal Award, I participated in Wake Forest University's study abroad program in Venice this summer.  I was drawn to Venice as a language study site after my research on Titian this past spring, which I presented at the Robyn Rafferty Mathias Student Research Conference in a talk entitled, "Titian's Danaë: Romance or Rape?"
During my stay in Venice, I took two courses—an Italian language course and a music history course. My Italian course provided me with an excellent language foundation that I have continued to build upon since my return to Washington. In addition, I had the opportunity to live with two native Italian professors at Casa Artom, which previously served as the U.S. consulate in Venice before Wake Forest purchased the property to house their students. Having my professors constantly accessible allowed me to experience Venice as a local and learn far more about the Italian linguistic structure, regional idioms, and cultural mores than I ever would have had my instruction been confined to the classroom. Furthermore, living in Venice for five weeks forced me to practice speaking and reading another language. Consequently, I have become much more comfortable with Italian than with other foreign languages where my study has been limited to the United States.
My music history course enhanced my studies in art history with visits to the Accademia, Basilica of San Marco, La Fenice opera house, Church of the Frari, and Scuola di San Rocco, the latter of which houses the most outstanding example of Venetian Renaissance painting I have seen to date. Additionally, the course allowed me to travel to Bologna, where I spent time with works by seminal artists like the Carracci brothers at the Pinacoteca, and to Mantua, where I explored the Palazzo del Te, which I may work on in the future. While we also visited other northern Italian cities, I found Bologna and Mantua particularly important after completing AU professor Kim Butler's Late Renaissance/Mannerism course last fall.   
Generally speaking, I am very interested in gendered rhetoric that exposes how labels like "masculinity" and "femininity" have repeatedly been socially constructed to subjugate the "feminine" position. This idea is common in the art historical discourse at AU, but this summer I had the opportunity to see how such linguistic manipulation affects other disciplines as well. This study resulted in the form of an essay wherein I compared Giacomo Puccini to Francois Boucher in terms of critical reception. In much the same way that Diderot assailed Boucher for his "feminine" aesthetic, Fausto Torrefranca lambasted Puccini and labeled him untalented and diseased, characteristics he gendered female.
My personal explorations of Venice exposed me to a number of small galleries, Biennale events, and most interestingly, Ca' Rezzonico, a museum dedicated to eighteenth-century Venice, where I discovered an appreciation for the painter and printmaker Giovanni Battista Tiepolo. Living beside the Guggenheim also proved a great resource, as their collection of Marinetti, Boccioni, Braque, and Picasso introduced me to Futurism and Cubism— rather apropos timing given that I will complete the course Cubism to Surrealism and serve as the TA for Modern European Art: Nineteenth and Twentieth Century, both with AU professor Norma Broude, this fall.   
My stay in Italy also provided a good opportunity for me to network, whether via my brief encounter with Yoko Ono, or my friendship with a Canadian undergraduate who plans to apply to AU's MA program in art history this fall, or my many discussions with early Italian Renaissance literature scholar and feminist Roberta Morosini, a professor at Wake Forest University. Unfortunately, my time in Rome did not overlap with the important Italian Renaissance art historian Carolyn Valone, with whom my undergraduate advisor Dr. Kim Dennis of Rollins College had arranged for me to meet, but I did have the benefit of meeting Titian scholar Agnese Chiari, another affiliate of Wake Forest University.
At the end of my term in Venice, I travelled to Rome, where I had a wonderful experience at the Palazzo Barberini, site of Italian Baroque artist Andrea Sacchi's ceiling fresco of Divine Wisdom, on which I am writing my first Master's thesis. The staff members with whom I interacted were accommodating and enthusiastic about my work, and I remain in contact with them as questions continue to arise surrounding my thesis. Sacchi's fresco literally came into focus upon viewing the work firsthand, as all the reproductions I have seen distort the perspective in order to capture the whole image. 
Additionally, I was able to study the frescoes in the adjacent chapel—a significant opportunity because a number of scholars interpret an iconographic continuity in these nearby paintings, yet they fail to provide even mediocre color reproductions, rendering a secondhand assessment of the claim rather difficult. The benefit of studying Sacchi's fresco first-hand has certainly come to bear on my research, which I presented at the annual AU/GWU Symposium this fall. My talk entitled "Lady Wisdom and Her Attendants: Andrea Sacchi's Barberini Fresco" addressed hitherto unrecognized allusions to the Virgin Mary in Sacchi's painting.