Alumni Profile
Alumna Engages Through Art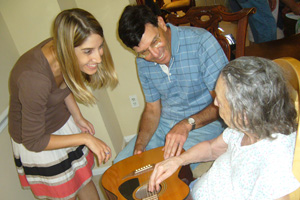 On a bright Saturday morning in May, several senior citizens are gathered around a dining room table, looking at an image of Edgar Degas' The Dancing Class. The group passes around a pink tutu and touches the satin ribbons of a pair of pointe shoes. Fingers and toes tap to the soft sounds of The Nutcracker. 
Leading the group are AU alumna Brooke Rosenblatt, BA art history '99, and her colleague, Jen Droblyen. Rosenblatt, who is currently the manager of public programs and in-gallery interpretation at the Phillips Collection, and Droblyen are co-owners of Art/Engage, a social services organization that provides art and culture appreciation classes to individuals with cognitive disabilities, particularly those with Alzheimer's disease and dementia.  
Most Saturdays a month, Rosenblatt and Droblyen travel to residential senior homes to conduct Art/Engage's specially-designed, multi-sensory classes. Their mission is to foster meaningful exchanges with cognitively-impaired individuals with the hope of stimulating memories and communication. The participants experience some of the world's most famous masterpieces using sensory tools such as props, sound effects, and music. The sessions cognitively and intellectually stimulate participants, encouraging them to reflect on and contemplate some of the world's most famous masterpieces using sensory tools such as props, sound effects, and music. During group or individual discussions participants socialize, read, sing, and express their creativity by producing art projects related to the artwork.  
Currently, Art/Engage works primarily with senior citizens, but the organization has a long-term goal to expand services to residential treatment programs for adults and children with disabilities, hospice homes, adult community centers, and facilities that offer after-school programs. Art/Engage currently has a handful of volunteers—including a few AU art history alums—and would love to expand. If you would like to learn more about the organization or volunteer opportunities, please visit its Web site.