Alumni Success Story
On the Fast Track to Career in TV Thanks to SOC Course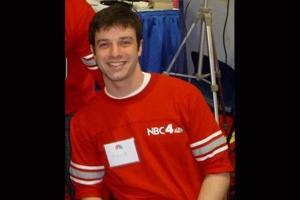 With the U.S. job market lagging, many new graduates have had a hard time finding a job out of college. This wasn't a problem for 2012 graduate David Mullins. Right out of college, Mullins was offered an internship by NBC4, NBC's local Washington, DC affiliate.
A former School of Communication major, Mullins credits his job to his Intro to Studio Television class with Professor Sarah Menke-Fish. "Intro to Studio Television was one of the most practical classes I took at AU", says Mullins. Through Menke-Fish's class, students create short 'webisodes' for NBC4 at least once a week, and are given total control of the projects, allowing students to work as Director, Technical Director, Camera Operator, and even Host. Mullins says the class really prepared him for the professional world. He was able to walk onto the job already understanding all the jargon and the workflow. Mullins believes that the class put him way ahead of the learning curve and prepared him for his career.
While Mullins attributes his preparedness to Intro to Studio Television, he credits SOC's Discover the World of Communication program for introducing him to Menke-Fish, SOC and American University - all key to his success. The DWC summer program is for high school students, and features intensive courses taught by AU faculty and communication professionals in a variety of disciplines.
DWC helps students learn to blend friendship with teamwork, a crucial skill that's sometimes hard to find on the job. DWC class topics range from public speaking to animation to nature photography. "I was awed by the wide range of skills it provided me in just two short weeks. Obviously, this program helped confirm my choice of AU for undergrad," says Mullins. Mullins believes that AU gave him the foundation he needed to build skills for his career through opportunities that only AU can provide.
Students interested in Communication or the Discover the World of Communications program, should visit the SOC Discover the World of Communications web page for application materials and more information.