Alumni Success Story
Green Ambition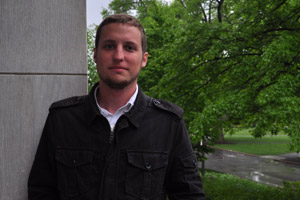 What is an inconvenient truth for many serves as a driving force for David Smedick, BA environmental studies '10. Scheduled to begin a master's degree in environmental management at Duke University this fall, Smedick has found that his past four years at AU have well prepared him for the future.

The issue of climate change is one Smedick has addressed both in and out of the classroom. For the past two semesters, he interned at Access Green, a D.C.-based firm that audits the energy efficiency of homes and businesses. He has done a variety of work for the firm, including market analysis and local public policy research. He also participated in a program that Access Green cosponsored with Goodwill of Greater Washington that trained residents in green construction.

"Access Green provided me with key professional experience in energy efficiency, while also teaching me the importance of the emerging industry of energy reform," he says. "I learned that, with the right intentions, a small business can create positive change in the community."

Prior to that, he spent the summer of 2009 as a group leader with D.C. Mayor Adrian M. Fenty's Green Summer Job Corps. Through this program, he led a group of eight local teenagers in working with D.C. residents to lower the District's carbon emissions. "The program was a way to put my environmental interest on the ground in D.C.," he says. "I think we actually made a difference."

Smedick credits much of his success to the uniquely multifaceted view of environmental studies that he has been given through AU's program. Students in the program are encouraged to take related classes across the university. "They give their students freedom to discover what their interests are within the field, and then they help us develop those interests further, suggesting what our next steps may be in achieving our goals," he says.

It is this connection between the pragmatism of the "real world" and the idealism of environmental conservatism that Smedick hopes to continue developing. The master's degree in environmental management will place him in the field of corporate sustainability. "I hope to bridge the gap between business and the environment, which have been at odds for so long. I think there's a great opportunity there," he says.