Student Success Story
Digital Discourse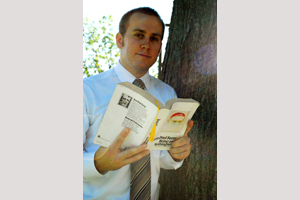 AU's Department of Philosophy is known for its unconventional research and teaching. In spring 2008, then-undergraduate Chip Corbett decided it was time for the department to showcase them.  
That June he founded Pharmakon, an online academic journal published annually through the College of Arts and Sciences. The journal features scholarly essays written by undergraduate and graduate students that reflect the department's most distinctive characteristics.  
One of these is the emphasis on what is known in the discipline as "continental" tradition. Unlike analytic philosophy, which focuses on logically analyzing both concepts and the language used to express them, continental philosophy generally purports that truth is a term defined in relation to specific cultures and historical periods.  
Because the majority of philosophy departments in this country's universities adhere to an analytic approach, Corbett says, most American philosophy journals do, too. "I wanted Pharmakon to provide a space where students of continental philosophy could publish their work, too," he says.  
The journal also showcases essays inspired by the student internships that are integral to the AU philosophy experience. "Internships provide opportunities to put philosophy to work," says Ellen Feder, professor and acting chair and internship advisor. "Students see how the tools of philosophical analysis can be of practical use for exposing problems—the operation of inequality, say, or moral failures as they occur on the ground."  
Students have interned at various nonprofit and governmental organizations in the Washington area, including Human Rights Watch, Amnesty International, the Phillips Collection, and the National Academy of Sciences.  
Now that he has moved on to the master's program, Corbett has handed over Pharmakon to AU's chapter of Phi Sigma Tau, the national philosophy honors society. Says Corbett: "I'm glad I'll be around another two years to watch it continue to grow."