Student Success Story
Physics Student Builds Lasers at NASA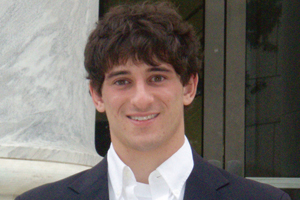 If you overheard a young man talking about lasers and NASA, you might assume he was discussing a science fiction movie. But if that person was David Menasche, he would just be recapping the events of his summer vacation.  
After only two years at AU, Menasche is already quite accomplished in his field. During his freshmen year, the physics major received the Benson T. Chertok Memorial Scholarship for Academic Excellence and Undergraduate Research.
The night Menasche received the scholarship, professor Nathan Harshman suggested that Menasche further his interest in physics by applying for a summer internship position at the National Aeronautics and Space Administration's Goddard Space Flight Center in Greenbelt, Maryland. Menasche applied and got the position.  
That summer, Menasche worked at Goddard as a research assistant to AU professor Demetrios Poulios. His involvement in the project began simply by learning about fiber-optic lasers. By the end of the summer, he was working on designing and constructing a package for one of the instruments in a series of laser vegetation imaging sensors, or LVIS.  
The sensor is placed in an aircraft, which flies over the target area and collects data. The LVIS emits a laser beam and records the returned signal from the surface of the terrain, creating data that are useful for sonar ranging, terrain mapping, and cloud formation finding.  
"The opportunity to work with the laser group at Goddard was awesome," Menasche said. "My advisors helped me immeasurably, both to learn about the research culture and to develop new technical skills. Learning to build a laser was by far one of the coolest things I've done this year—the internship was an awesome experience."  
By working with NASA after only a year in college, Menasche proved that even AU students just starting out in their field have opportunities to gain valuable experience beyond the university's walls.  
—Adapted from "David Menasche at the Goddard Space Flight Center" by Brittany Horowitz, Catalyst, Spring 2009.