Education
TESOL Grad Accepts Book Award from Duke of Edinburgh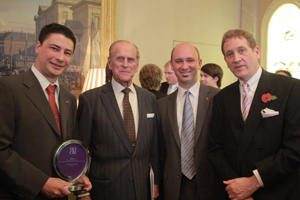 Adam Gray, CAS/MA '02, traveled to Buckingham Palace in London on November 9, 2010, to receive the prestigious 2010 His Royal Highness the Duke of Edinburgh English Speaking Union (ESU) English Language Book Award, an annual award given to an English language book for innovation, good practice, originality, and substance in language and teaching.
Gray's book, Fiction in Action: Whodunit (ABAX Press, 2010), cowritten with Marcos Benevides, is a creative approach to comprehensive English fiction reading geared towards high school and college students. The book utilizes the classic who-done-it story as a tool to engage readers in fiction stories. "I wanted to write in a genre that would appeal to everyone," says Gray. "Most people on some level are going to enjoy mysteries."
To Gray's surprise, his coauthor Benevides submitted an application for the award, and they won. "I found out in a staff meeting. I shouldn't have been checking my e-mail, but I did, and I got this long e-mail," he says. "I nodded to use the rest room and called my dad."
Gray, Benevides, and his publishers from ABAX, located in Tokyo, all met in London for the award ceremony at Buckingham Palace. "It was a very exciting time for all of us," says Gray. "It was the first time the award has ever been given to a publisher in Asia."
It is also the first book with free-to-share English language teaching e-text. Gray and Benevides agreed to release their book under a Creative Commons license, which allows people to pay as much, or as little, as they'd like for the e-text version of Fiction in Action: Whodunit. "Radiohead did something similar to this," says Gray.
Confident in the product he and his coauthor produced, Gray believes that the more people who use the high quality book, the more people who will end up buying it. While the e-text can be downloaded for a reduced price online, the print version is still available at full cost for those who prefer hardcopy, which comes complete with a detective's notebook and audio CD.
Before Gray began working on the book, he earned his bachelor's degree in English and creative writing from the Ohio State University in 1998. "After I [graduated], I was a little unsure of what I wanted to do," he says.
Gray decided he wanted to live in a Spanish speaking country for a bit, so he headed to Chile, where he taught at a bilingual school for a year and half. That's where he learned about teaching English as a second language (TESOL). "I didn't know you could get a degree in that," he says.
Gray was already qualified to teach English in any country, but decided to get his masters at American University before he proceeded further with his career. Once he received his degree, Gray moved to Japan to become an English professor at a university in Osaka.
Gray's time in Japan opened his eyes to two widely practiced methods used to teach English: intensive reading and extensive reading. Gray says that intensive reading is comprised of mainly short readings, mostly academic, on selected topics. "It's not always fun for the students because maybe they don't care about the history of neckties, or Machu Picchu." Extensive reading allows students to choose what they would like to read and usually results in a book report or discussion about the reading.
"As a professor, I was using both, and I wasn't really happy with either one. I started making materials that included both," he says. Gray began writing his own original fiction for students, and thus his book began to form. He wrote mystery stories that incorporated comprehensive reading questions and note taking skills. "I thought it would be more fun at the end of each chapter to have a cliffhanger. By answering the questions you'd get another clue," he says. He also includes a detective's book with every print copy for students to take notes in.
"If you look at my education and experience, my two loves are education and creative writing," says Gray. Putting the book together was the perfect marriage of Gray's passions, and the result is an award winning English language text.
With this award on his shelf, Gray is already underway on writing a second book. "The book I already wrote is an intermediate level; the publisher and I agreed that there should be a beginner level." His next book will be fantasy genre instead of mystery and is planned for fall 2011.
Fiction in Action: Whodunit is available on Amazon.com, SpringESL.com, or from the publisher.