International
Grad Student Embarks on Peace Corps Journey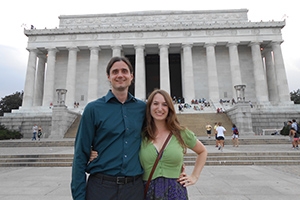 Everyone has dreams and ambitions they hope to pursue one day. Whether large or small, these ambitions can be guiding forces in our lives, leading us down exciting and unknown paths to the people we will become. And oftentimes, when these dreams are realized, they are the start of a new life altogether.  
AU graduate student Kathrina Konfirst is experiencing this firsthand as she begins her journey as a Peace Corps volunteer. A student in the Master's International Program in TESOL, Konfirst is spending the next two years teaching English in Ukraine with her husband Matt. "We're excited to volunteer and give back, and at the same time meet new people, learn a new language, and see how people in another part of the world live," she says. 
Structured as a partnership with the Peace Corps, the Master's International Program in TESOL prepares students for Peace Corps English-language teaching assignments while they earn a master's in TESOL. Students finish a majority of their coursework before leaving for their Peace Corps assignment and complete their oral comprehensive exams, teaching portfolios, and Peace Corps reports when they return.  
Originally from Germany, Konfirst first became interested in teaching languages when she moved to the United States in 1999. "I got really close to the German teacher at my school. She kind of took me under her wing and helped me with the transition," says Konfirst. In addition to adjusting to a new culture and language, she also studied French and Spanish and graduated from high school able to speak four languages. 
Konfirst's high school language teachers served as the role models for the kind of career she wanted to pursue. "I want to be like the language teachers I had when I first came to the States," says Konfirst. "They really helped me to transition into this new stage of my life. I think that had a big impact on making me want to teach."  
AU's international TESOL program was an ideal fit for Konfirst, allowing her to combine her love of languages with her passion for teaching. "It was really the perfect program for me," she says. "Being able to teach and observe in D.C. was ideal, because there are so many language schools and people coming from all over."  
The next several months will be a whirlwind for Konfirst and her husband. Before becoming official Peace Corps volunteers, they must complete an intense, three- month training session in Ukraine. Along with five to ten other volunteers, they will meet full time Monday through Friday for language, cultural, technical, and safety training. Upon completing this training in mid December, the Konfirsts will become sworn-in volunteers, only then finding out where in Ukraine they will teach.  
Though adjusting to living and working in a new country will undoubtedly hold its challenges, Konfirst is excited about getting started with this next phase of her life. "It's been a while since I've been in a new place and have had to be a student or a teacher without really knowing the language," she says. "It'll be really good to find myself in that situation and be able to relate to how my students feel in the classroom. I think that always makes you a better teacher and a better person if you can relate to what someone else is going through."