Communications
Tracking Afghan Women's Quest for Glory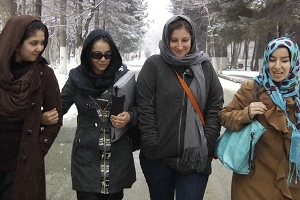 Professor and Journalist in Residence Bill Gentile is following a team of female Kabul University law students from Afghanistan to Hong Kong in their journey to compete in the Vis Moot, one of the world's most prestigious international arbitration contests. This will be the first female team from Afghanistan to compete in the competition.
The film, tentatively titled Afghan Girls' Law, is a co-production of American University's School of Communication (SOC). The project is being led by Gentile as Producer and Afghan-American entrepreneur Laila Rossi as Executive Producer, Professor Brigid Maher as co-producer and graduate student Heidi Naguib directing.
The Department of Commerce, which runs Vis Moot, first approached SOC through Maher, known for her documentary Veiled Voices on Muslim women leaders in the Arab world. Maher turned to Gentile to shepherd the project, due to his long track record of working in Afghanistan, including the piece Afghanistan: The Forgotten War, broadcast by NOW on PBS. Maher also formed a connection with Rossi, who, beyond her official role, has become a mentor and advocate for the Afghan girls' team.
"The girls and I have become very close during the filming," Rossi shares. "I'm hopeful that I can positively influence and help other Afghan women to make their way. I hope to inspire our participant girls – and other women that watch the documentary – to seek higher education and pursue their career goals, make a contribution to their country, and become future leaders, despite all of the cultural and political obstacles they face."
Gentile and Rossi were both in Kabul January 3-10 for the initial round of filming for the documentary. The trip marked the first time that Rossi, whose parents are both Afghan, returned to her native country since her childhood.
The competition is a mock judicial proceeding set up to examine a hypothetical case as an academic exercise. It is named after the late Willem Cornelis Vis, Executive Secretary of the Vienna Diplomatic Conference that created the UN Convention on Contracts for the International Sale of Goods (CISG). It is organized on an annual basis in Vienna by Pace University.
The Moot aims to promote the study and practice of international commercial arbitration. The moot problem that contestants must address is normally based on a business dispute, and the teams are expected to present arguments for both the claimant and respondent before a panel of arbitrators and under the rules of one of the major arbitral institutions, such as the International Chambers of Commerce or the London Court of International Arbitration.
Gentile, Naguib, and Rossi are currently in Doha, Qatar, to film the Afghan girls as they prepare, and then will travel with them on to Hong Kong for the final competition in late March and early April.