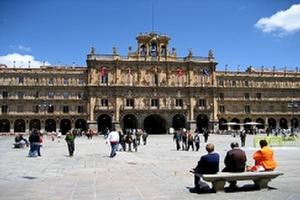 BA in Spanish Studies
Admission to the Program
Students must be approved by the department for formal admission to the major. Language course work may be waived if high school or other preparation warrants it. Placement will be made in consultation with a departmental advisor. 
University Requirements
A total of 120 credit hours 
6 credit hours of college writing 
3 credit hours of college mathematics or the equivalent by examination 
General Education Requirements
A total of ten courses, consisting of two courses from each of the five foundational areas
At least one course from Area Five: The Natural and
Mathematical Sciences must include a laboratory science
component
No more than two courses may be taken in the same
discipline
Major Requirements
Spanish: 39 credit hours with grades of C or better. Prerequisite: completion of intermediate language level.
One of the following field concentrations: 12 credit hours in a second foreign language at any level or 12 credit hours in area studies in the major field at the 300 level or above or teacher education leading to certification to teach a foreign language (Spanish) at the secondary level or an approved minor related to the major field; for example, another language, business administration, communication, economics, political science, history, sociology, literature, anthropology, or international studies 
Course Requirements
Spanish (39 credit hours)
SPAN-352 Spanish Conversation and Composition I (3) (may be replaced by other 300- or 500-level course if warranted by language proficiency) 
SPAN-353 Spanish Conversation and Composition II (3) (may be replaced by other 300- or 500-level course if warranted by language proficiency) 
SPAN-357 Introduction to Latin American Literature (3) 
SPAN-450 Spanish Civilization I: Spain (3) 
SPAN-480 Senior Capstone: Concept of the City (3)
SPAN-491 Internship: Spanish (2–6) 
3 credit hours of Latin American culture and society course work as approved by advisor 
3 credit hours of linguistics course work from the following:
ANTH-225 Language and Human Experience (3)
ANTH-254 Language and Culture (3) 
SPAN-456 Spanish Topics (3) (approved topic) 
SPAN-461 Introduction to Spanish Linguistics (3) 
TESL-5xx course as approved by advisor 
Remaining credit hours chosen from Spanish topics, colloquium, and literature courses 
University Honors Program
To graduate with University Honors, students must be admitted to the University Honors Program, maintain a minimum cumulative GPA of 3.50, and receive grades of B or better in all University Honors course work. There are three levels of University Honors course requirements: Level I (100-200-level); Level II (300-level and above); and Level III (Honors Capstone Project). The department Honors coordinator advises students in the University Honors Program regarding requirements for graduating with University Honors in the major. For more information, go to the University Honors Program.
Combined Bachelor's and Master's Degrees
American University offers students the opportunity to earn both undergraduate and graduate degrees through its accelerated bachelor's/master's programs. Undergraduate students may complete up to 3 credits for every 9 credits required for the graduate degree that may be applied to the requirements for both degree programs.  The department that oversees the graduate program the student enters will determine if the courses the undergraduate student completes will satisfy master's degree requirements. 
Bachelor's/master's students must complete at least 18 in-residence credit hours at the graduate level after the bachelor's degree is earned and  maintain continuous, sequential enrollment in the two programs. Students must finish the master's degree requirements within three years from the date of first enrollment in the master's program.