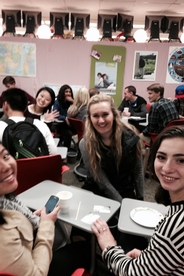 Tertulias at AU is a new initiative in the Spanish Program with the intention of showcasing a variety of Spanish speaking countries represented among our diverse faculty.

The idea is to present the students with a cultural experience by introducing different foods, music or traditions while they have the opportunity of use the language outside the classroom setting.

On March 22th the Spanish Language Program presented "Dance Caribbean Rhythms" by instructor Eric Ruiz. He demonstrated and guided the students on dancing Salsa, Merengue, Cumbia and others exciting rhythms. A memorable Tertulia full of energy!

Tertulias takes place every 3rd Tuesday of the month, alternating one in the morning and one in the afternoon.