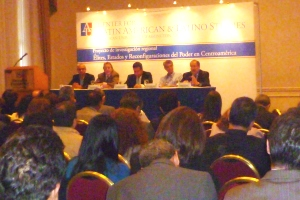 From left to right: Aaron Schneider, Eric Hershberg, Alex Segovia, Juan Pablo Peréz Sáinz, Hugo Noé Pino
San Salvador 2012: Roundtable Discussion and Steering Committee Meeting

The project's second public dissemination event was held on July 16 at the Sheraton Presidente Hotel in San Salvador. The discussion drew a great deal of media coverage; the project's Co-PI's, Eric Hershberg and Alex Segovia were interviewed in a morning news program prior to the event and news clips appeared on various television networks in the days following. The publicity drew a diverse audience of over 100, to which Eric Hershberg delivered a general overview of the project and Alex Segovia, Juan Pablo Pérez Sáinz, Hugo Noé Pino and Aaron Schneider presented their initial findings.
Segovia spoke on the axes of accumulation within El Salvador and efforts at regional collaboration. Pérez Sáinz, whose research for the project has focused on inequality and inclusion, presented findings for El Salvador, painting a rather bleak picture of an increasing portion of the Salvadoran population being characterized as excluded both in terms of their incorporation through the labor markets and social citizenship. His complete essays are available to download here. Schneider examined fiscal policy as an element of state building and Pino gave an overview of ICEFI's work with the project on how elites exercise power within the fiscal arena, including the manipulation of media and willingness or lack thereof to build coalitions. For further information on the CLALS' collaboration with ICEFI, please view the summary of the project's first dissemination event held in Washington, DC and a description of their partnership with CLALS.
While in San Salvador for the project's second public dissemination event, the steering committee met for two days and made great headway on future steps for the project, including:

The structure of a publication in partnership with ICEFI on elites and the fiscal arena;
An agreement with PRISMA on the structure and content of essays relating to territoriality and elites;
The structure of a two volume publication which will encompass main project findings to be published by FLACSO;
Future schedules for high-profile dissemination events within the region.
The next substantive meeting for the project will be held in the beginning of November in Costa Rica.