Hemisphere in Flux: First Conference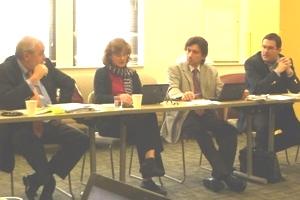 CRIES Director Andres Serbin, Leslie Elliott Armijo, Gilberto Rodrigues and Federico Merke (seated left to right) debate a point during the seminar held at AU in October.
As part of the Hemisphere in Flux project, CLALS hosted the workshop "International Relations, Multilateralism and Prospects for Democratic Deepening of Inter-American Affairs," October 13-15, 2011 at American University. Convened by CLALS, INCT/INEU and CRIES, the workshop summoned expert scholars from seven countries in the Americas to share the findings of current scholarship and to craft an agenda for collaborative research focused on illuminating key trends in inter-American relations.

The event opened with an October 13 public presentation attended by students, faculty, diplomats, and outside participants in the workshop. Eric Hershberg, director of CLALS, moderated a panel featuring Tullo Vigevani, one of Brazil's top experts on Brazilian foreign policy; Philip Brenner, professor at the School of International Service at AU; Andres Serbin, director of CRIES, a network of Latin American civil society organizations; and Arlene Tickner, a prominent foreign policy scholar from the Universidad de los Andes in Colombia.

On October 14th and 15th, participating scholars met for two full-day sessions of open discussion around four related topics. First, eight experts from Latin America presented the fundamental elements of foreign policy decision making in key states in the Americas, followed by an open discussion on the policy trends and the factors that drive them in different countries. Second, participants turned to the question of the emergence of new forms of regionalism in the Americas and inter-governmental institutions. Here the discussion revolved around the new Latin American regional bodies, such as UNASUR, ALBA, and CELAC, as well as around the logics that underlie these new integration processes and the interactions among these supra-national entities.

A third workshop session analyzed inter-American regional mechanisms across key issue areas. Panelists presented memoranda on presidential summits, environmental policy coordination, investment, trade, and energy infrastructure. Lastly, the group considered the implications of the three previous panels for critical aspects of the inter-American system: human rights protection, democracy promotion, and the participation of civil society in regional integration.
See the full list of participants and their institutional affiliations here.
Read the report summarizing key features of the workshop's discussions.