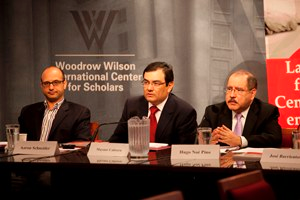 From left to right: Aaron Schneider, Maynor Cabrera and Hugo Noe Pino at the June 5 event on Central American fiscal policy.
Washington, D.C. 2012: Central American Fiscal Policy in a Time of Crisis

Central America is facing a crisis. While issues of violence and security have dominated the Washington agenda on Central America and are of undeniable importance for the region, this narrow lens largely ignores the fundamental dynamics at play. Offering deeper analysis, prominent Central American economists Maynor Cabrera, Ricardo Barrientos, and Hugo Noé Pino of the Instituto Centroamericano de Estudios Fiscales – Central American Institute of Fiscal Studies (ICEFI) and Aaron Schneider of Tulane University, gathered for a panel discussion at the Woodrow Wilson International Center for Scholars to discuss the findings of ICEFI's recently-released report, "Central American Fiscal Policy in a Time of Crisis." The panelists identified the current Central American crisis in terms of politics and economics; with increasing political fragmentation, the lack of long term agendas, and low citizen confidence in government institutions within a region struggling to maneuver through its insertion in the global capitalist market.
Unlike some countries in South America, such as Brazil and Chile, Central America has not experienced a rebound from the 2007 global economic crisis. The global recession had the detrimental effect of reversing positive trends towards reducing poverty levels in the region. Panelists mentioned a number of factors that continue to influence the state of crisis, to varying degrees of these five countries of the isthmus, such as the ineffective employment of valuable redistributive mechanisms. In general the tax burden is tied to imports, which have fallen as a result of the global financial crisis. Direct tax revenues continue to be low due to tax evasion and wide spread state granted exemptions, thus minimizing their ability to alter inequality through increased social spending. Furthermore, countries continue to grapple with insufficient investment in physical infrastructure, corruption and climate change induced natural disasters.
Traditional mechanisms to encourage fiscal stability, which often require austerity measures, are not viable for Central America the scholars argued, especially given the clear correlation between increased social spending and decreasing poverty levels. Similarly, countries that have historically invested in education and social services, like Costa Rica and Panama, remain the current investment choice for global companies because of their well-trained workforce. The major challenge remains political. For instance, the capacity and technical knowledge to create effective fiscal policies exists; the impetus in terms of implementing economic reforms is linked to resistance from both new and longstanding political and economic interests. Successful reform requires a focus on creating citizen trust in government institutions; and a reconceptualization amongst the public of democracy as a process rather than merely voting for public officials. Public finances also need to be strengthened in order to provide for adequate social spending. In order to accomplish such tasks, there needs to be coalition building between economic elites, the public sector and the civil sector, recognizing that fiscal reform is necessary for the continued economic growth and social development of the region. For its part, ICEFI is working on increasing "fiscal citizenship," through the generation of and dissemination of knowledge.