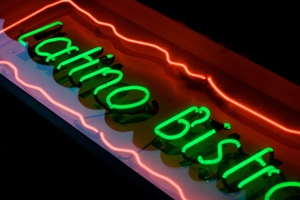 Photo by: Jeremy Brooks | Flickr | Creative Commons
Healthy minority-owned enterprises are a significant source of employment and community development, but scholars and policymakers lack the adequate understanding of the factors that influence the decision making of Latino entrepreneurs. While strategic planning is widely considered a critical determinant of enterprise success, little research has been done to identify the variables that impact how Latino business owners envision the development of their firms. To shed light on these factors, CLALS is collaborating with AU's Kogod School of Business and DC metropolitan area partners to conduct empirical research documenting how Latino entrepreneurs plan the future of theirs firms. The project is currently in its second phase. 
Phase 2
The second and current phase of the project, led by AU Kogod School of Business Professor Barbara Bird and George Washington University Professor Michael Danielson, is being carried out in collaboration with the Greater Washington Hispanic Chamber of Commerce (GWHCC) and BizLaunch. It has been initiated with the aim of increasing the number of interviews to 200 and diversifying the sample to include Mexican immigrants. Interviews conducted in Phase 1 were performed over the phone and in person. Phase 2 will also include online surveys. Collecting data from a larger sample of entrepreneurs and on a larger number of variables will allow us to expand upon the research conducted in Phase 1 in a number of ways. First, business outcomes will be examined such as the number of employees, revenues, and growth, in addition to the short- and long-term planning practices of entrepreneurs. Second, the expanded scope of the study will allow us to gather data on entrepreneurs from more Latino sub-groups. This will allow the researchers to identify the similarities and differences between these sub-groups while controlling for key intervening factors, such as socioeconomic status and social, human, and economic capital endowments.  
The expected scholarly contribution of this phase will be to test a series of theory-based hypotheses gleaned from the literature on ethnic entrepreneurship among understudied Latino sub-groups in a new destination city. We have begun with five guiding hypotheses that can be tested through analysis of data to be gathered over the course of six months of research. First, in the case of immigrant entrepreneurs, the motivation for migration will impact the goals of a new venture. Second, social capital may substitute for human capital among Latino entrepreneurs, particularly when there are high concentrations of co-ethnics and opportunities to serve an ethnic niche market. However, reliance on within-group social capital may place a ceiling on potential future growth and expansion to broader markets. Third, the greater the combination of social and human capital, the greater the likelihood of start up, survival, and growth. Fourth, future time perspective will have a positive relationship to short and long term planning behaviors. Fifth, planning behaviors (e.g., targeting customers, seeking resources, preparing communications) are cumulative and positively impact venture survival and growth.

Phase 2 Update: April 2015
On March 24, 2015, the CLALS-Kogod team participated in the GWHCC's sixth annual Business Expo, during which at least twenty surveys were completed. In an interview at the Expo, CLALS Fellow Michael Danielson spoke about AU's ongoing work on Latino entrepreneurship.

Professor Barbara Bird presented the details of this project at the 2015 Society for Applied Anthropology annual meeting in Pittsburgh on March 27, presenting a paper co-authored with Michael Danielson and Amanda Bullough titled "Explaining Strategic Decision Making and Planning among Latino Entrepreneurs: The Impact of Country of Origin and Migration Experience."

The CLALS-Kogod research team will continue to work closely with the GWHCC, which has committed to facilitate the research effort by connecting the team to Latino owners of business start-ups and by collecting survey data themselves, with the goal of reaching 200 survey responses by June 2015.

Phase 1

Under the direction of AU Kogod School of Business Professor Barbara Bird and George Washington School of Business Professor Ayman El Tarabishy, and in collaboration with the Latino Economic Development Center (LEDC) the Center completed an in-depth analysis of Latino entrepreneurship in the DC metro area. Through its work with clients in metropolitan Washington, LEDC identified a number of pressing challenges, including obstacles that Latino entrepreneurs encounter as they strive to envision the evolution of their businesses over time.
Through extensive field work, this study increased our understanding of Latino entrepreneurship, the motivations and expectations of Latinos in business, possible explanations for uneven success of their firms, and the reasons why entrepreneurs may differ in their expectations.
Considering the heterogeneity of Latino communities, in Washington and beyond, the research engaged entrepreneurs from varied backgrounds, as well as numerous economic sectors. Survey and ethnographic data revealed valuable information about decision making in both established Latino firms and among individuals contemplating launching new businesses which enabled greater understanding into their motivations, the main problems they have experienced, and the mechanisms they have deployed to maximize their prospects for success.

These findings served as a basis for scholarly articles and further research to 1) shed light on the vision, skills and financial tools of Latino entrepreneurs in the DC area, 2) help explain differences and differentiation among entrepreneurs and how these variables influence success and business expectations, 3) create a foundation for "scaling up" our research to encompass the circumstances experienced by Latino entrepreneurs in other regions of the country.

Phase 1 Update: January 2013
In the first phase of the study, the research team conducted open-ended interviews of a sample of 30 Central and South American entrepreneurs in the DC metro area and identified significant differences in the planning behavior of entrepreneurs by country of origin. Specifically, the team found consistent evidence that South American entrepreneurs (from Colombia, Peru and Bolivia) were significantly more likely to engage in both short and long-term planning compared to their Central American counterparts (from El Salvador, Guatemala, and Honduras). Download the full report.

Preliminary findings were presented and discussed in the panel entitled "Latino Immigrant Entrepreneurs: Future Time Perspectives" at the Third Annual International Council for Small Business (ICSB-GWU), "Global Entrepreneurship: The Latest Research on Business Creation," which was held October 11-13, 2012 at The George Washington University.