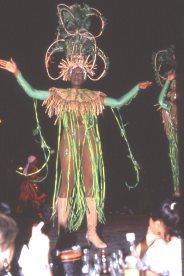 Photo by Bill Gentile
Imagining American Cities through 21st Century Performance
The fusion of performance and urban studies proposes the polemical "global city" as a central concept of investigation. In today's globalized society, theatre creates a space to reflect on urban issues. Performance (such as theatre, urban interventions and spoken word) helps guide and form social and political resistance in new ways. The space created by these practices shapes urban discourse and reiterates the possibilities of imagined community.

Led by World Languages and Cultures Professor Brenda Werth, this project sought to address the following questions: 1) How do conventionally staged theatre and urban intervention (such as street art and public theatre) illuminate the mutually constitutive relationship between urban topography and memory politics? 2) To what extent can performance establish sites of resistance to the spatialized conflicts, divisions, and inequalities that manifest the effects of neoliberal processes on the city? 3) How do site-specific performances and interventions in city space create communities of spectatorship that transcend local or national frameworks, and to what extent can imagining global spectatorship provide a model for a shared sense of empathy beyond place? By conducting research on the various forms and dimensions of performance in different "global cities" across North and South America, this project aims to unsettle longstanding binaries, stereotypes and identity tropes that have traditionally imposed ideational borders between the North and South.

For a full description of the proposed project, click here.