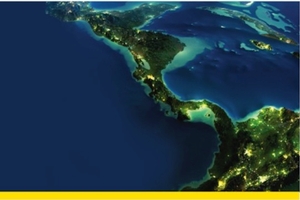 In collaboration with leading researchers and research institutions in the region, including the Universidad Rafael Landívar, Programa Salvadoreño sobre Desarrollo y Medio Ambiente (PRISMA), Instituto Centroamericano de Estudios Fiscales (ICEFI) and the Facultad Latinoamericana de Ciencias Sociales–Costa Rica (FLACSO-CR), CLALS is engaged in an ambitious project about the composition and role of Central American elites who have long played an enormous role in shaping the political and economic landscape of Central America. This multi-year program of research, dialogue, and publication is funded by the Ford Foundation. 
The investigation explores historical context, transformation and continuity in elite composition as well as how elites relate to the economic, political, and social orders in the five core countries of the isthmus – Guatemala, El Salvador, Nicaragua, Honduras and Costa Rica. We aim, in the first instance, to fill an important scholarly gap. Alexander Segovia's book on the structural transformation of the Salvadoran economy during the 1990s (Cambio estructural, politicas macroeconomicas y pobreza en El Salvador), and useful historical studies published during the 1980s and 1990s (e.g. Jeffery Paige's Coffee and Power: Revolution and the Rise of Democracy in Central America and James Mahoney's The Legacies of Liberalism: Path Dependence and Political Regimes in Central America) followed a long tradition of analogous works produced during the 1960s (e.g. Torres Rivas' classic analysis Interpretación del desarrollo social centroamericano) that have not been matched in the contemporary period.

Among the goals of this project are to identify and map the sectoral and territorial economic underpinnings of contemporary elites in these five countries, the institutional spaces in which elites exercise power, develop comparative studies of disputes around fiscal policy, and consider the role of relations between Central American elites with the U.S. and with the broader international arena. This research highlights continuity and change in all aspects. We explore how the economic landscape gives rise to political interests, and catalogue the organizational mechanisms through which elites seek to channel their interests into public policy. We describe and analyze elite relationships to different components of the state and, where relevant, their ties to illicit actors. The research empirically documents the socio-political attitudes of Central American elites and assesses how those attitudes translate into behaviors. The initiative will result in four Spanish-language publications - two focused on the general findings of the project, one on the role of elites within the fiscal arena, and an e-book on territoriality and elites. A series of public presentations and book presentations will be held this year within the region and in Washington.