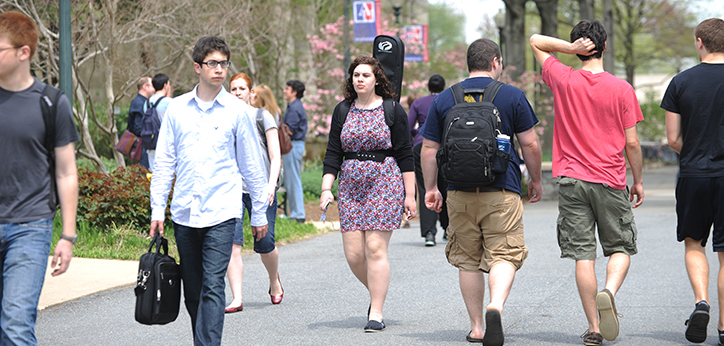 Spring 2013 Exhibitions: Lee Haner, Painting Borges, and Saturation Point
Now through Wednesday, May 26
Katzen Museum First Floor Exhibition, Admission is free.
Lee Haner: Mischief Recent mixed-media works by a reclusive master. Balanced between representation and abstraction, painting and sculpture, the exhibition is inspired by the land and first peoples of the American Southwest. Painting Borges: Art Interpreting Literature Argentinean Jorge Luis Borges is one of the most prominent and profoundly philosophical literary figures of the twentieth century. Sixteen visual artists interpret twelve stories by Borges, organized according to three topics: identity and memory, freedom and destiny, and faith and divinity.. Saturation Point: Nudashank Presents Jordan Bernier, David Armacost, Jamie Felton, and Alex Da Corte Nudashank is an artist-run, commercial gallery in downtown Baltimore that features Baltimore artists alongside artists from other cities to broaden the dialog in the Baltimore art community. The exhibition brings together four artists who explore the idea of saturation.
Project Move-Out
Saturday, May 4, 8 a.m. – 2 p.m.
The Tavern
Project Move Out is an effort to reduce waste and reuse items. Lightly used, unwanted items donated by AU students, faculty, and staff are on sale for $10 or less. All proceeds from the sale will go to local charities. There is a $5.00 early bird entrance fee from 8 a.m. – 9 a.m. After 9 a.m., admission is free.
Yoga in the Galleries: Spring Session 3
Wednesday, May 8, and Wednesday, May 22, 10 a.m.
American University Museum at the Katzen Arts Center
Drawn to the notion of being mindful, open, and alert, yoga is a meditative practice with a great relationship to art. Join instructor Shannon Ramirez for our spring series of Ashtanga Vinyasa yoga classes, combining breath and movement in galleries. Please bring your own mat. Admission is free.
Katzen Cinema Series: Guest of Cindy Sherman 
Wednesday, May 8, 7 p.m.
American University Museum at the Katzen Arts Center
Guest of Cindy Sherman takes an eye-opening look at what happens when a skeptical outsider finds himself romantically involved with the ultimate insider. Filmed over 15 years and including interviews with a veritable who's who of the art and entertainment world (including Ingrid Sischy, John Waters, Robert Longo, Carol Kane, David Furnish, Danny DeVito, and Molly Ringwald), the film paints a vivid picture of the New York art scene that is also a witty, illuminating look at celebrity, male anxiety, and art. Admission is free.
Commencement Ceremonies
Saturday, May 11
School of Public Affairs – 9 a.m.
School of Communication – 1 p.m.
College of Arts and Sciences – 4:30 p.m.
Commencement Ceremonies
Sunday, May 12
Kogod School of Business – 9 a.m.
School of International Service – 1 p.m.
Library of Congress "Books That Shaped America: How the Other Half Lives"
Thursday, May 16, 7:30 p.m. – 9 p.m.
Bender Library
The School of Professional and Extended Studies (SPExS) and the University Library present a special discussion series featuring selections from the "Books That Shaped America" list compiled by the Library of Congress. Informal discussions about the influence of these books on the nation's literary heritage will be led by AU faculty and staff members. Upcoming events include discussions of How the Other Half Lives by Jacob Riis and Narrative of the Life of Frederick Douglass by Frederick Douglass. For more information, visit www.american.edu/spexs/btsa, or call 202-885-3847.
Quarterly Meeting of Community Liaison Committee
Thursday, May 30, 7 p.m.
Abramson Family Founders Room on the sixth floor of the School of International Service (SIS) building on main campus (4400 Massachusetts Avenue, NW).
The CLC was established to foster positive relations and to maintain regular communication between the university and its neighbors. As specified in the D.C. Zoning Commission Order for AU's new 10- year Campus Plan, the CLC comprises individuals from neighboring community organizations and representatives from the university. Parking for the event will be available in the Nebraska Avenue lot or the SIS parking garage. Additional information on the CLC can be found at http://goo.gl/MqnOc.
For event details and a full list of all upcoming events, see the University Events Calendar.
For a listing of upcoming events for AU alumni, please visit the Alumni Events Calendar.