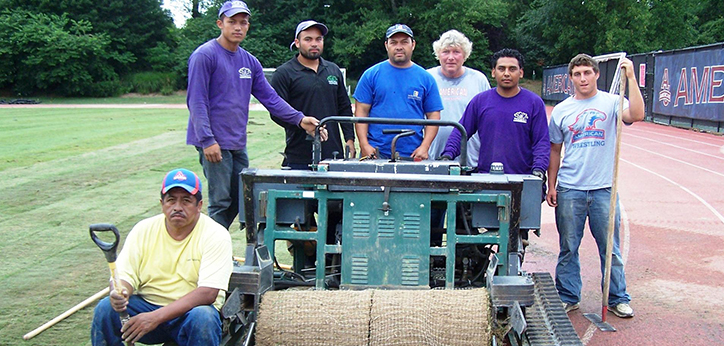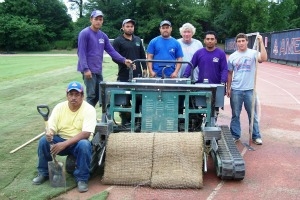 American University's premier soccer field was renovated this year due to contamination of the top two inches of sand with an organic layer that resulted in poor drainage, high water retention, and shallow root development. Organic matter accumulation is a natural part of the field maturing, especially in Bermuda grass fields. The recommended solution for sand-based Bermuda sports fields is to re-grass every eight to ten years, depending on the condition of the field. Dr. Norman Hummel, consulting agronomist, evaluated the soil profile of the field and provided recommendations prior to the project specification development. He recommended removal of the existing sod along with two inches of organic-laden sand. The sand was replaced with a more coarse variety that was roto-tilled into the remaining sand layer to help blend the mix so that field porosity improved. The new sod is an improved variety called TifGrand Bermuda, a hybrid grass developed at the University of Georgia.
Rather than contracting the project out to a general contractor, Nick Gammill stepped up and requested to lead the effort, together with Martin Vasquez, Julio Flores, David Conn, Zeke Gammill, and additional labor provided by McFall and Berry Landscape. Nick also applied to the mentorship program to learn more about project management and was coupled with Mike Griffin (CRDMOPS), using the Reeve's Field project as a hands-on example. Nick and Mike mapped out a work schedule, organized the work force, purchased the materials, and got down to business. The team was presented with an "Ideas at Work Award" for completing the project utilizing in-house expertise.
The Zone E Grounds team maintains the field throughout the seasons. They are very proud of being host to various professional and international teams such as Manchester United (England), Brazil, Tottenhan Hotspur (England), Chivas, USA, and the Houston Dynamo. The demand for practice play on Reeve's Field by such highly ranked teams prior to tournaments is a tribute to our Zone E staff. Congratulations for a job well done.