Education
Seminar Offers Opportunity For Exchange of Information Between U.S.-German Universities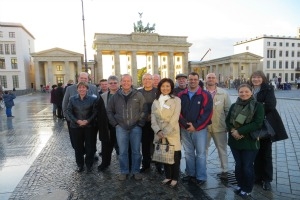 Recently, representatives from 15 American colleges and universities, including AU, traveled to Germany for a five-day Fulbright Educational Experts Seminar titled Do More with Less – Implementing Change in Higher Education Management in Germany. The attendees were vice presidents of their respective institutions who are responsible for finance, administration, and strategic planning.
The seminar provided an opportunity for representatives from American institutions of higher education to share information with their German counterparts. They focused particularly on how German universities, in the wake of the global financial crisis, expect less state government funding, and how they could learn to adapt to the current economic climate, while complying with the Bologna Process which enables European students to study at their home institutions or other European countries. Currently, European universities remain overwhelmingly reliant on public money for much of their financing, and government cuts in spending have resulted in higher-education budgets being reduced. The seminar explored how German university leaders could reshape their institutions, and shift them from traditional state-government-driven entities to modern, efficient, and highly competitive knowledge providers.
According to AU seminar participant Assistant Vice President of Budget and Finance Resource Center, Nana An, German institutions focus mainly on teaching and research activities, while U.S. higher education systems are committed to educating students as global citizens, and also promote student affairs, extra-curricular, and social activities.
"Although U.S. institutions are vigilant about charging tuition and fees that are as low as possible, we have some degree of flexibility in making our business models sustainable through such methods as auxiliary enterprises, bond financing, alumni and fundraising, and endowment income. While German institutions can adopt several of these practices from the U.S. – provided their legal system allows it – our institutions also can learn from Germany's operating efficiency as a result of their financial constraints," said An.
As a follow up to the seminar, and to continue the dialogue and exchange of ideas with European institutions, An volunteered to explore training and professional development opportunities for the CFOs and vice presidents of German universities through partnerships with professional associations in the U.S. and the German-U.S. Fulbright Commission.