Environment
Green Eagles RecycleMania Basketball Game Is A Win For Sustainability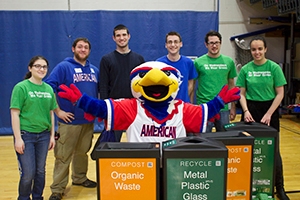 American University's recent men's basketball game against the Colgate University Raiders may have resulted in a narrow loss on the scoreboard for the Eagles, but the day turned out to be a win for the university's sustainability efforts. The game against Colgate marked the first-ever Green Eagles RecycleMania Game, which itself was a part of AU's participation in the national RecycleMania competition that runs until March 29. The goal of RecycleMania Day was to produce as little landfill waste as possible.
In addition to watching a nail-biter of a game, the more than 2,000 Eagles fans in Bender Arena learned about how they could participate in AU's daily zero waste efforts. Sustainability-related activities before, during, and after the game included:
Fans attending the game were asked to bring a can or bottle for recycling. As a reward, they received a brand new bottle of a Coca-Cola product, which also was recycled. By the end of the day, more than 1,000 cans and bottles were collected for recycling.
Green Eagle sustainability peer educators unveiled Zero Waste Stations in Bender Arena, and helped fans sort their waste properly in AU's new recycling and compost collection bins.
A pre-game student fan-fest and environmental club fair by the Blue Crew student section.
Sustainability-related facts and trivia featured on the arena's video screens, including the WONK Challenge with Clawed the Eagle.
Sustainability-themed contests during time outs, including the ever-popular "trashketball" and a recycling relay race.
Director of Sustainability Chris O'Brien noted, "We are excited to partner with the Department of Athletics to promote sustainable behavior change on campus. We're excited about the continued success of Eagles basketball and AU's participation in the national RecycleMania competition. There is so much we can do on campus on a daily basis to live and work sustainably, and our hope is that the students, faculty, staff, alumni, and fans in attendance will learn from the Green Eagles about how to make our ambitious campus sustainability goals their own."
More than 600 schools in the United States and Canada participate in the annual RecycleMania competition. This year, AU is working hard to repeat its 2012 performance by winning the national competition, and already has much to boast about its sustainability efforts. As part of AU's commitment to be carbon neutral by 2020, the university purchases 100 percent of its electricity from wind power. AU also won the 2013 Business Leader in Energy Efficiency award in recognition of a major lighting retrofit of Bender Arena in partnership with the DC Sustainable Energy Utility. The improved lighting saves more than 350 MWh per year in electricity use and reduces the cooling necessary for the arena.
The Zero Waste Policy states that AU is committed to strive for zero waste sent to landfill and incineration by 2020. Currently, AU recycles, composts, or otherwise diverts more than two-thirds of its waste from landfill and incineration, well on the way to meeting its ambitious goals.
For more information about AU's sustainability and RecycleMania efforts, visit the Zero Waste site.