Campus Safety
AU Conducts Annual Emergency Management Test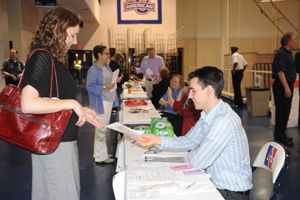 On April 20, American University performed an annual test of its emergency management plan.  This year's exercise, which was developed in coordination with the DC Department of Health (DOH), involved a simulated public health emergency in which anthrax spores were released throughout Washington, DC.  The exercise tested AU's ability to act as one of DOH's points of distribution (POD), using university employee volunteers to disseminate antidote medication to the faculty, staff, and student community.  For the purposes of the test conducted at Bender Arena, candy – in place of actual medication – was distributed.
Similar point-of-distribution tests also were conducted simultaneously at FBI Headquarters, FBI field offices, ATF, Walter Reed Medical Center, and JW Marriott.  AU is the only academic institution in the DC area that participated in the exercise.
For more information about AU's emergency management plan, visit the Emergency Preparedness Web site or contact Tanisha Jagoe.