Environment
AU's Retail Stores Eliminate Plastic Bags, And Subway Introduces Packaging Innovation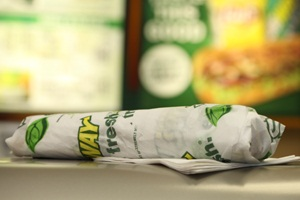 Beginning August 14, plastic bags no longer will be used by the Campus Store, Eagles Nest convenience store, and Subway, and will be replaced by a selection of reusable canvas totes and paper bags.
Subway also will introduce adhesive labels as a means of securing sandwich wrappers and eliminating the need for bags. While this innovative, new waste-saving technology already has been tested in overseas markets, it will be introduced for the first time in the U.S. at the AU Subway franchise location. Subway also will offer compostable paper sandwich sleeves for customers who request a bag. The paper sleeve will comply with the District of Columbia's bag tax legislation.
Subway's discontinuation of the use of plastic bags will have a significant impact on the environment nationally. In fact, it is reported that Subway alone sells more than four million sandwiches and salads per day in the U.S. – that correlates to millions of plastic bags. Closer to home, it will contribute to cleaning up the local waterways that feed into the Chesapeake Bay. Additionally, Subway also has improved sustainability measures in their other disposable products including the use of:
Napkins from 100 percent recycled fiber, processed chlorine-free and printed with soy or water-based inks
Specialty sandwich pouches that contain 50 percent post-consumer fiber
Pizza boxes that have 40 percent recycled content
Auxiliary Services and the Office of Sustainability are working in cooperation to promote this effort to reduce waste at the source, as our campus strives to reduce waste and divert one hundred percent of campus waste from landfills.