Environment
Students Find Simple Way to Save AU Water and Money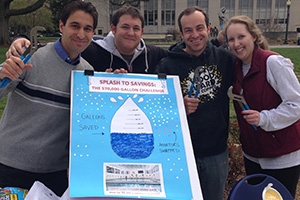 Recently, academic research, an on-campus service project, and Earth Month coincided to introduce an innovative new method for water conservation that promotes sustainability and financial savings for American University.
The innovation—to adjust the flow rate of water fixtures on campus—originated from Kiho Kim's University College Sustainable Earth class and Vicky Kiechel's Sustainable Design class, both of which were investigating opportunities for saving water on campus.
As part of their studies, students in the classes measured the flow rate of water fixtures on campus and realized that AU could be more efficient with its water use. They shared their findings with Office of Sustainability staff members who then calculated the amount of water and money that could be saved based on the current flow rate and the usage of each sink at the university.
A Savings of 77 Percent
Seeing the quick payback, Facilities Management (FM) jumped on the project to improve the university's efficient and economical use of water. FM also consulted with Aaron Schreiber-Stainthorp, a graduate student in Kogod's MSSM programstudying sustainable purchasing to figure out how best to address the issue of excessive water flow rate.
Schreiber-Stainthorp noted the real-world learning taking place, saying, "It felt great to be able to translate academic learning into a project that made a difference to improve sustainability on campus that you can see every time you wash your hands."The solution was to replace existing 2.2 gpm (gallons per minute) aerators in faucets throughout the university with low-flow 0.5 gpm aerators. Aerators, found on the tip of a faucet, add air to a faucet's water stream. The switch would result in a 77 percent savings of water per faucet. Given the savings in water usage as well as its long-term financial savings implications, Facilities Management made the investment to buy new, more efficient aerators for the entire university.
Enough Water to Fill AU's Swimming Pools
Once the aerators were purchased, two Facilities Management technicians, Walter Poist and Janelle Freeman, trained a group of student volunteers on how to replace the aerators. The students, armed with floor plans, wrenches, and new aerators, spent the morning of Friday, April 18 swapping out the aerators of nearly every faucet at the university.
Vin Harkins, assistant vice president of Facilities Management commented, "Appropriately occurring during Earth [Month], a unique and creative solution to conserve water on campus helped fortify American University's commitment to sustainability and efficiency. It was an impressive effort of collaboration between our students, faculty, and staff. The projected savings to the university was simply an added bonus."
It is estimated that once all the aerators are replaced, the university will save 570,000 gallons of water—enough to fill AU's swimming pools—and almost $10,000 per year.
The replacement effort, a part of AU's Earth Month initiatives, also addresses AU's LEED initiatives, as water efficiency is a prerequisite for the LEED certification of the university's buildings.