First Person
Dramatic Weight Loss a Win for AU Shuttle Bus Driver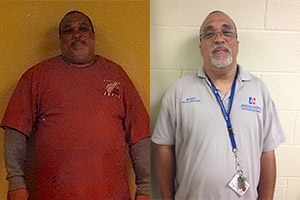 AhealthyU offers faculty and staff programs and tools to achieve their health and fitness goals including health screenings, diet and nutrition programs, and group exercise classes. It is important that you also have regular check-ups with your primary care physician to evaluate your health and make recommendations that suit your individual needs.
Three years ago, Kevin Wyatt, an AU shuttle supervisor, had a number of back-to-back personal losses that served as a wake-up call to make some significant changes to his lifestyle. In August 2011, one of Kevin's nephews died suddenly, followed by a number of close friends, all due to issues exacerbated by unhealthy lifestyles.
At 265 pounds, Kevin challenged himself and his siblings to adopt healthier lifestyles that included weight loss, a more nutritious diet, and regular exercise. Although Kevin lost 15 pounds over the next year, Kevin's doctor told him that he had borderline high blood pressure at his biannual physical in 2013. He also knew that there was room for improvement in his physical health because he got winded and experienced back pains after walking around the block at home. "That's when I became determined to change the way I ate and set out to walk at least 10,000 steps a day," explained Kevin.
Kevin joined AhealthyU's 2013 Pedometer Challenge and attended Zumba class twice a week at Jacobs Fitness Center. He set reasonable goals for himself and decided that, "No weight gain was considered a victory for me."
In the past year, Kevin has lost 45 pounds and keeps track of his weight at home every morning using his Wii Fit. He has also increased his target number of steps per day to at least 12,500 –often walking instead of riding the AU shuttle. Kevin recently completed his first 5K walk.
"I still have a weakness for Oreos and Chips Ahoy cookies and milk, but these days I limit it to one or two cookies instead of the whole row," said Kevin.
Kevin's determination to improve his health are now paying dividends. "At AhealthyU's last Wellness Fair, my blood pressure range was so good that the nurse said that it was no longer an issue. I also went from a pant-waist size of 42-44 to 36-38, and my shirts have gone from a 2XL to XL. But my greatest motivation to stay healthy is my 10-year old daughter. I would like to see her graduate from AU and plan on walking her down the aisle when she gets married."
When asked how others can adopt similarly healthy habits and achieve success, Kevin advises, "To quote the Nike slogan, 'Just Do It,' and remember, you didn't gain this weight in one day, so don't expect to lose it in one day."