Practice the Power of Play
As the only program of its kind in the United States, the Master of Arts in Game Design drives students to stretch their capacities as designers, developers, consumers, and game administrators and apply that to their unique field of interest. Students bring to the program their own experiences—whether in politics, science, art, history, marketing, or international studies—and can choose from multidisciplinary courses across our schools of communication, business, and arts.

What issue are you passionate about? Bring your creativity into play with a Master's in Game Design. Through game design theory, development, and design, our students bring about behavior change, expand awareness, and make a difference. With award-winning faculty and real-world experience, our program prepares students for a career in all facets of game design, play theory, and engagement strategies. Students leave with the skills and experience they need to succeed in applying game theory to non-game contexts.
Consistently ranked as one of the best cities for job seekers, Washington, DC, offers game design master's students unparalleled access to private and public sector opportunities. 
Take advantage of institutional relationships with government agencies, locally based companies, and not-for-profits alike. Clients you may contract with include the Educational Testing Service (ETS), the National Institute of Mental Health (NIMH), Smithsonian American Art Museum (SAAM), and WAMU 88.5.  
Connect through renowned DC-held events, such as Indie Arcade at the Smithsonian Museum, Global Game Jam, Games+, and more. 
Whether your next career step is local or global, you'll gain the skills and network you need to succeed.
Program Director Lindsay Grace is an internationally exhibited game artist and designer whose Critical Gameplay collection has been exhibited in Asia, Europe, North and South America. Together, with a team of impressive faculty, he is leading AU's Game Lab to a superlative position in persuasive play and public purpose games.
With a 4:1 full-time student to faculty ratio, Game Lab students benefit from one-on-one interaction with world-renowned faculty. From working with Game Studio clients to performing scholarly research, students are able to learn from, and work side-by-side with faculty.
The Master of Arts in Game Design is a unique, multi-disciplinary 36-credit hour program focused on game design and game engagement mechanics intended to influence non-game contexts and challenges. 
The program will develop students' intellectual capacity as designers, developers, consumers, and games administrators. Beyond traditional game design and development, students learn to tailor play design for distinct education purposes. 
Required courses such as Games and Rhetoric and Games and Society take students beyond the fundamentals of building a great game. With their 9 credit hours of electives, students are able to choose from a variety of concentrations, or create one of their own.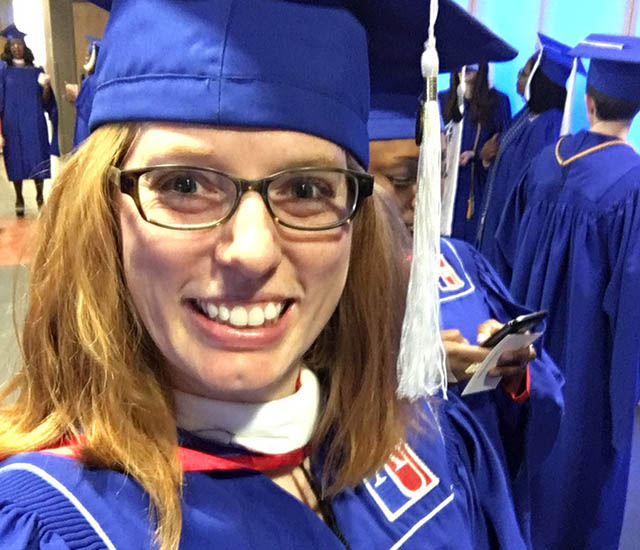 Kelli Dunlap, MA/SOC '16
A good fit for students who have a genuine, broad curiosity about games.
As a game design student who also has doctorate in psychology, Kelli Dunlap embodies the program's commitment to socially conscious gaming.

As a fellow with the JoLT project, Kelli explored the intersection of journalism and game design. Her fellowship afforded her the opportunity to present at the Game Developers Conference as well as South by Southwest! 
4 to 1 Student-Faculty ratio
50 percent of students work with corporate, NGO and government partners
Frequently Asked Questions
There is no typical Game Lab student! Students bring their unique backgrounds and passions to the program, having addressed diverse topics such as mental health, social justice, journalism, politics, money management, and advertising. The program can lend itself to your particular area of interest.