Achievements
A Lifelong Educator's Legacy Highlights Celebration of Scholarships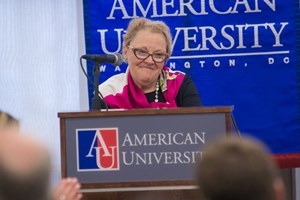 "My arrival at AU was a very different journey than most young college students," Clara Londoner, CAS/BA '63, told attendees at the 2014 Celebration of Scholarships luncheon.
Londoner understands how far an extra show of support can go. At the age of 10, after falling below grade level on several subjects at school, she was diagnosed with a vague learning disability, which she called a "word problem" (understood today as dyslexia). Aided by dedicated attention from her classroom teacher, Londoner was able to catch up with her classmates, and continue to succeed in her education. In 1959, she was accepted into the freshman class at American University.
Overcoming adversity in her own studies fueled a passion for teaching in Londoner, which was further nurtured during her time on campus, as she earned her degree in elementary education. After graduating, she embarked on a lifelong commitment to teaching, including many years with special education students. "I do not believe that I could have done all that I did without the motivation and inspiration that I received from the exceptional professors at American University," remarked Londoner.
In recent years, with the approach of her 50th college reunion, and the passing of her husband, David, Londoner began to consider how she might leave a lasting impact at her alma mater.
"Both David and I always believed the most valuable gift you can give a child is an education. We all agreed that David's legacy should be used to start a scholarship to be awarded each year to a deserving student in the field of special education," said Londoner.
Working with the College of Arts and Sciences, she established the Clara F. Londoner and David J. Londoner Scholarship. Now fully endowed, the award provides financial assistance to students who demonstrate a dedication to the field of special education, and in particular, art integration and a commitment to teaching a diverse K-12 student body.
For the scholarship's inaugural recipient, Diane Folliet, the support came at just the right time. "I was starting to doubt myself," she admitted to the assembled donors and students.
After a summer in France caring for her ailing grandparents, Folliet returned to the states for school, far from her family and saddled with loans. In mid-October, the good news of scholarship aid came from the School of Education, Teaching, and Health (SETH). Easing the financial burden came as a relief, but meeting her scholarship donor at the following week's President's Circle Dinner touched something deeper in Folliet.
"I almost didn't go to the dinner, because while I was getting ready, my father called me to tell me that my grandfather had just passed away earlier that day," Folliet shared. "[But] I'm very grateful for going and meeting this extraordinary woman...that evening I received an unforgettable gift. Clara, you're that gift."
As Folliet expressed her gratitude for her own experience, she reminded donors of the impact that such a personal connection brings. "The monetary support you give us isn't the real value of our scholarship – it's the recognition of our efforts."
True to form of an aspiring educator, Folliet had a lesson to impart to her fellow students. "I hope that you will one day come back here, not as a recipient, but as a scholarship donor yourself."
Scholarship funds provide resources that help change the lives of AU students, making tuition assistance available based on both need and merit. The annual Celebration of Scholarships luncheon brings together recipients of donor-funded scholarships and their donors to express gratitude for their generosity.