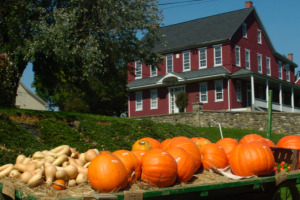 Three ways to support area farmers:  
Buy your weekly supply of fruits and veggies every Wednesday at the AU Farmers' Market.

OR
Subscribe to From the Farmer, selecting which weeks you'll receive fresh produce and goods from local farms and vendors on campus.
OR
Participate in Community Supported Agriculture, sit back, and let your weekly fruit and veggie supply come to you!

Three reasons to shop at a farmers' market or support your local farmers:

1. It's good for the environment. Less fuel and oil are consumed since the food doesn't need to be transported from other parts of the country. 

2. It's good for you. Local produce is usually fresher and tastes that much better...increasing the likelihood that you'll eat the recommended number of fruit and veggie servings daily. 

3. It's good for the community. You're supporting a local business and helping the economy.