JFK at AU: Building Peace for All Time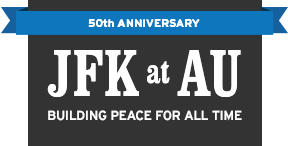 Is a 'Strategy of Peace' Possible in the Middle East?
In John F. Kennedy's 1963 commencement speech at American University, titled "A Strategy of Peace," the president urged Americans to see the Soviet people as deserving of respect and admiration, despite their government's policies. 
By humanizing the Soviets and separating people from politics, Kennedy was instrumental in softening Cold War tensions.
"No government or social system is so evil that its people must be considered as lacking in virtue," Kennedy said.
MORE: JFK's AU Speech: 50 Years Forward on Peace
Kennedy's words bear remembering today as the U.S. faces nuclear threats from North Korea and Iran. As tensions in the Middle East continue, it's worth asking whether Kennedy's ideas for world peace, spoken 50 years ago on this campus, are applicable to that region today.
That is the topic of an upcoming event sponsored by the School of International Service and the Center for Israel Studies. David Gregory, host of NBC's political talk show Meet The Press and SIS alumnus, will sit down with Israeli Ambassador Michael Oren to discuss Kennedy's speech and its possible application in the Middle East.  
Oren was appointed to his post in 2009. He is a graduate of Princeton and Columbia and was an officer in the Israel Defense Forces. Oren has been a visiting professor at Harvard, Yale, and Georgetown, and the Jerusalem Post listed Oren as one of the ten most influential Jews worldwide.
WATCH: Videos of the 50th Anniversary of JFK's Speech at AU
In a Meet The Press-style talk, Gregory and Oren will explore whether the type of diplomatic engagement that Kennedy advocated for is possible among any of the leaders in the Middle East today.
In his speech, Kennedy entreated the public to know the true cost of war on a nation's citizenry.
"For we are both devoting massive sums of money to weapons that could be better devoted to combating ignorance, poverty, and disease. We are both caught up in a vicious and dangerous cycle in which suspicion on one side breeds suspicion on the other, and new weapons beget counterweapons," Kennedy said.
The event, open to AU faculty, staff, and students only, will take place from 3:30 to 5 p.m., Monday, April 29, in the Abramson Family Founders Room in SIS.
RSVP by April 24 at jfkstrategyofpeace.eventbrite.com. A government-issued or American University I.D. is required for admission. Due to security precautions, please refrain from bringing large handbags or briefcases. A livestream of the event will also be available at www.american.edu/sis/meetthepress.cfm.