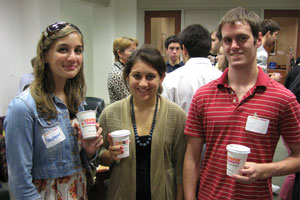 Dish with the Dean

Each month, K-LAB invites a small group of undergraduate or graduate students to enjoy an informal lunch with Interim Dean Erran Carmel. 
The lunch is a unique opportunity to have an interactive conversation with your Dean. Students may discuss Kogod, work, the economy, a book they're reading, a movie they just saw, etc. The goal of the program is to give the Dean an opportunity to get to know students and give students the opportunity to learn more about their Dean and Kogod.

The event is open to all Kogod students, but space is limited and students must RSVP for the event which is advertised through the weekly newsletters. 
Contact klab@american.edu for more information.