International
New Course Explores Innovation in Paris, Prague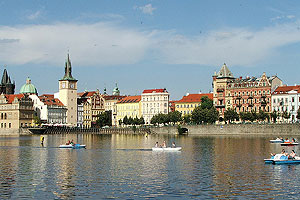 The Kogod School of Business is introducing an interdisciplinary course aimed at expanding graduate students' knowledge of European business and politics, technology, new media and innovation issues.
The course, Global Innovation Without Frontiers, provides students with the opportunity to travel to Paris, France and Prague, Czech Republic over the 2011 spring break to investigate technological developments and their effects on the economies of those countries.
Kari Lininger, the Director of International Programs for Kogod, said that the idea behind the program is for American students to compare and contrast the U.S. economy with those of other countries. 
Of the upcoming course, she said "It will be a double comparison – the U.S. to Europe and France to the Czech Republic."
Although Kogod has had courses with travel portions for graduate students in the past, Lininger said this is the first time a course will travel to either Paris or Prague. 
France was chosen for the unique role in plays in the technological, political, and economic culture of Europe. "There are a lot of tech centers in Europe, but the largest one – the "silicon valley" of Europe – is in the South of France," said Lininger.
Paris is also home to ESCP Europe, a business school owned by the Paris Chamber of Commerce that was rated number one in MS Management programs in Europe, and is well-connected in the Paris business community, according to Lininger. Students traveling to Europe will have the opportunity to hear lectures from ESCP professors as well as to network with ESCP graduate students.
Students enrolled in the course (IBUS-685), will attend several class meetings during the Spring 2011 semester prior to departure, and spend eight days abroad. The course will include meetings with leaders of domestic and multinational firms across sectors of information and communication technologies, new media, energy, defense technology, aerospace, biotechnology and biopharmaceuticals.
Participants will conduct on-site field research of the region's path to innovation and technology transfer and after returning to the US, they will present their findings in a research symposium.
The course will be taught by Kogod Professor Tomasz Mroczkowski. Up to 20 students can enroll in the travel portion of the course, and an additional 15 may enroll in the on-campus component of the course, said Lininger.