Faculty, Programs, & Quotes
Kogod Associate Dean and MBA Student Featured on Channel 9 News
Associate Dean for Academic Programs, Lawrence Ward, and part-time MBA student, Tyler Coffey, were interviewed about investing in a graduate education program during the economic downturn.  View news clip. (5/29/09)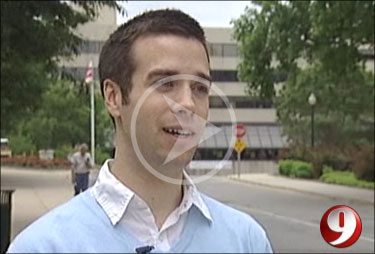 The Kogod School of Business Offers New Space for High School Financial Literacy Workshop
Channel 9 News recently reported on a finance program specifically for high school students from some of DC's poorest communities.  The program took place in the new Kogod Financial Services and Information Technology Lab and was an enlightening opportunity for these students to learn about managing their finances before they begin college.  View news clip. (5/28/09)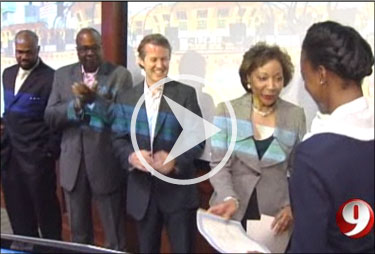 Professor Gerald Martin Quoted on Bloomberg.com
In a recent Bloomberg.com article, "Berkshire Scales Back Stock Purchases as Cash Erode", Professor Gerald Martin commented on the Berkshire Hathaway's stock purchasing trends. Martin observed the actions taken by Berkshire CEO Warren Buffett and Berkshire's investments in GM and Goldman Sachs.
"How can you turn something like that down," said Gerald Martin, a finance professor at American University's Kogod School of Business in Washington who has studied Buffett's investing history. "He's hedging in the right way. He's buying these things in a period of uncertainty and locking in the return until the stocks recover." View full article. (5/19/09)
Professor Gerald Martin Quoted on Bloomberg.com
In a recent Bloomberg article, "Berkshire Added to Wells Fargo Stake as Shares Fell," Finance Professor Gerald Martin reacts to Warren Buffett's comments on Wells Fargo.  Buffett's Berskshire Hathaway Inc. increased its stake in Wells Fargo by 4.3% in the first quarter, believing the bank had advantages over other large banks.
Buffett is "putting his money where is mouth is," said Martin. "I don't think he's even been this transparent about what he's doing."
The article also reflects on other recent investments by Buffett's firm, but explains how he prevents copy-cat investing.  View full article. (5/15/09)
Professor Robin Lumsdaine Quoted in American Banker
In a recent American Banker article, "As Fed's Role Grows, Doubt Spurs Critics" regarding the Federal Reserve System structure, Professor Lumsdaine was recently quoted in response to questions regarding whether its structure is outdated and needs reworking.
"The distribution of banking and economic activity, as well as population density, across the country was very different when the Fed was set up than it is now," said Lumsdaine, who prior to joining Kogod was an associate director in the Fed's banking supervision and regulation department. "The Federal Reserve Act already provides for possible readjustment or establishment of new districts, not to exceed a maximum of 12 districts."
Regarding the role of the Federal Reserve Bank of New York and whether its president should face confirmation hearings like the Federal Reserve Board members do, Lumsdaine said, "I wouldn't be in favor of elevating it to the equivalent of the board", adding, "Currently under the Federal Reserve Act, the board supervises and regulates its operations, as well as those of the other 11 Reserve banks."
Lumsdaine also discussed the contributions of the Reserve Banks beyond supervision, particularly on the central bank's policymaking committee, noting "The districts have additional roles with respect to providing input into the conduct of monetary policy, as well as banking-related operations such as check processing."  View full article.  (5/15/09)
Robert Finfer (KSB '87) Finalist for Ernst & Young Entrepreneur of the Year
Robert Finfer (KSB '87), CEO of Integrity Capital Partners, LLC is a finalist in the Ernst & Young's Maryland program 2009 Entrepreneur of the Year Award. Ernst & Young, LLP recognizes entrepreneurs who demonstrate success in the areas of innovation, financial performance and personal commitment to their business and communities.
"I am extremely excited to have been recognized and nominated for this very special award," said Finfer. A panel of independent judges selected Finfer as a finalist among nearly 50 other nominees. Award winners will be announced June 25, 2009 at gala event in Baltimore. Finfer is a member for the Kogod School of Business Advisory Council. View full article. (5/12/09)

Kogod alumni in May 8-14, 2009 Washington Business Journal