Professional News
Professor Lindsay is Helping Improve The Taxation Process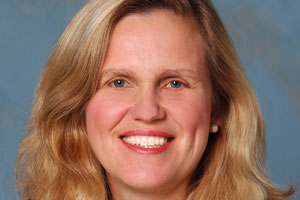 Most people wouldn't view being tasked with restructuring the IRS as a fun job, but that's not how Professor Emily Lindsay sees it.

Lindsay is currently serving on the IRS' Information Reporting Program Advisory Committee (IRPAC) where she and her peers advise the agency on best practices, the effects of pending legislation, and administrative processes that impact reporting for all taxpayers (that includes you, dear reader).

She also served on a separate advisory committee for the IRS during a restructuring under Commissioner Charles Rossotti, who was appointed by President Clinton from 1997-2002. Rossotti was considered a reformer for upgrading the agency's technology and turning the IRS into a more customer service-oriented agency – a process that Lindsay calls "the fun part."

Lindsay is one of 22 hand-picked members of the IRPAC committee, which is made up of attorneys, CPAs, vendors, enrolled agents and other service providers – all from the broad community of accounting. 
They meet throughout the year, both online and in person. "There's not a day that goes by that I don't get tons of emails," Lindsay says.

In May 2011, Lindsay and her IRPAC colleagues will report to Congress with their findings, which will hopefully help the IRS to align better with taxpayers.

This spring also marked the beginning of Lindsay's three-year term as Vice President of the Board of Directors of the American Payroll Association (APA).

This non-profit professional association boasts a membership of more than 23,000 professionals in payroll, compensation, benefits, and related industries.

Lindsay's 23 years of experience in large corporation compensation led to her dedicated involvement in the APA. The organization is focused on education and lobbying on both the federal and state level, as well as professional development.

Lindsay teaches a variety of accounting courses to both undergraduate and graduate students.