International
Options Exist for Graduates in Middle East, North Africa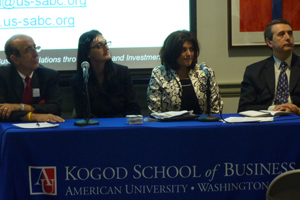 Job and educational opportunities in the Middle East and North Africa exist for U.S. students, said a panel of business leaders representing the region at a Kogod event last week.

About 15, 000 American civilians live in Bahrain and about 12,000 live in Kuwait, said Ghiyath Nakshbendi, an Executive-in-Residence in the International Business department. "This is the best kept secret: There are opportunities in the region."
Ezzine and Nakshbendi joined Aysha Murad, Director of the Bahraini Embassy's Cultural Office, and Business Development Analyst Ana Carmen Neboisa from the U.S.-Saudi Arabia Business Council to discuss reforms and how to get a job in the region on October 13.
About six percent of the world's population-more than the entire population of the United States-is in the Middle East and North Africa (MENA), a region that stretches from Syria east to Iraq, south through the Arabian Peninsula, and across the top of Africa to Mauritania.
The region is economically diverse with oil-rich economics (Qatar), middle-income countries (Syria), and poor countries (Yemen), said Dr. Mourad Ezzine, Education Sector Manager for the World Bank's Human Development Department in the MENA Region.
Saudi Arabia: A Key Opportunity
The World Bank ranked Saudi Arabia as the 13th easiest country in the world to do business and is one of the Top 10 most attractive countries for Foreign Direct Investment. To make the country more attractive and to diversify its oil-based economy, Saudi Arabia is also creating "economic cities" with industrial, residential, educational, maritime and business zones.

Here are Neboisa's tips for breaking into the growing Saudi business world:
Preparation: First determine which industries are the most appealing (It helps if the industries are experiencing high growth rates.), and identify key Saudi and U.S. players in the industry.
Sources of Information: Read business guides, industry reports and local Saudi newspapers (most are available in English online).
Sources of Jobs: Look into U.S. companies that have a presence in Saudi Arabia, or Saudi companies that have a presence in the U.S. Many universities also have partnerships in Saudi Arabia.
It also helps to know Arabic and have prior job experience, Nakshbendi and Ezzine said.


"What the countries are looking for is knowledge," Ezzine summed up. "So coming out of school is not the best time to work there. Work for a two years in a company, then apply for a job in the region. That will change dramatically how employers look at you."

Life on the Ground

While Saudi Arabia and other oil-rich or middle-income economies offer U.S. students a variety of job opportunities, the youth of many MENA nations are facing high unemployment rates on the home front.


The labor market is not creating enough jobs for MENA workers, especially for skilled workers, Ezzine said. While the youth have greater access to education than their parents did, they also face an unemployment rate eight times higher than that of older adults, Ezzine said.

Murad explained that education is a pressing issue specifically in Bahrain. A few years ago, "about 50% of students at the University of Bahrain failed during their second year of school," Murad said. "That was alarming."

Bahrain is undertaking substantial reform to improve education at all levels through teacher training, quality assurance programs, and external reviews.


"I'm very optimistic as an educator," Murad said.