Professional News
Food Labels Should Highlight Drawbacks, Not Just Benefits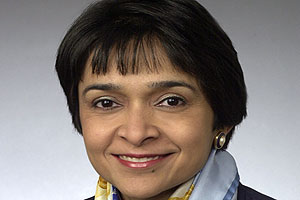 "I'm high in sodium! I contain lots of sugar!" should be stamped on food labels across the country, if a new committee on food packaging and nutrition has its way.
Food companies should highlight the nutrients responsible for obesity, diabetes and heart disease in their products, said the committee of health and marketing specialists in its preliminary report released last week.
Professor Anusree Mitra, chair of Kogod's Marketing Department, was invited to join the Institute of Medicine committee, which is funded by Congress and supported by the FDA and CDC. 
Along with her colleagues, she is reviewing existing front-of-package nutrition rating systems and symbols and recommending industry changes.
Last week, the committee proposed that labels should exclude information on positive nutrients, since including positive ingredients could encourage food companies to unnecessarily fortify their products to score points, according to a New York Times article on the report.
Current food-labeling practices often stress healthier aspects of products, such as vitamins or fiber, and ignore the drawbacks, such as high sodium or sugar content. The practice has led to labels indicating products like sugary cereals or salty frozen dinners are "healthy" and sending mixed messages to consumers.
Instead, the members advocated for front-of-package food labels that provide information on calories, saturated fats, trans fats and sodium content, the nutrients closely related with obesity and chronic disease.
The committee will release another report next year offering formal recommendations for the FDA and Congress.