Achievements
Marketing Prof Learned Leadership in Marines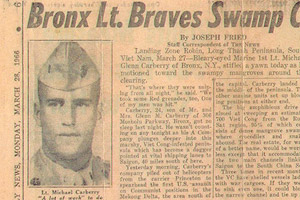 Watching the popular AMC show "Mad Men" gives Michael Carberry flashbacks to his time on Madison Avenue.
The self-described 'ad man' landed his first job as an account executive in 1968; he managed the account for "All" coldwater detergent before taking over Lipton Tea.
Throughout the hustle and bustle of the New York advertising scene, Carberry maintained a commitment he made to the U.S. Marine Corps in 1959 that would continue for three decades.
Carberry enlisted in the Marines as a 17 year-old college freshman. A product of a patriotic Irish Catholic neighborhood in the Bronx, many of his peers had enlisted in the military, and the Marines in particular caught his eye.
He spent two college summers training to be an officer candidate at boot camp. After he graduated from Manhattan College in 1963, he was sent to Okinawa, Honolulu, and then to Vietnam, where he served twice during the war.
At 24, Carberry had his first press clipping in the New York Daily News. The headline read "Bronx Lt. Braves Swamp Crawling with Cong." The reporter detailed the scene in Long Thanh Peninsula, South Vietnam:
"The Viet Cong were back at nightfall. As they poured fire into the perimiter [sic], Carberry, the company's executive officer, weaved between marine positions, helping direct fierce American automatic fire and artillery at the VC. It kept up all night."
Lessons Learned
Carberry returned to school after completing his service – enlisting in Columbia University's MBA program, from which he graduated in 1968. He didn't have a clue what he wanted to do, he says – but the ad agencies caught his eye this time, with their 'neat, cool' client list and lifestyle.
"They wanted me, and I wanted them," he says. So then it was off to Madison Avenue and a job with advertising firm SSC&B.
He had a gig on the side, too, as he often has throughout his career – in the Marine Corps Reserves. The unit specialized in public affairs and was charged with promoting the Marine Corps to U.S. media outlets.
Though his service was no laughing matter, there was some cause for entertainment: Ed McMahon, who later became a famous comedian and announcer, served in the unit.
A few years later, Carberry was recruited down to Washington, DC to work with the U.S. Postal Service – a stint that didn't last long. "It wasn't as fast-paced as advertising in New York," he said.

A contact from Madison Avenue offered him a partnership at the DC-based firm that would become Porter, Novelli & Associates, his first foray into public relations. The other partners were all fellow 'ad guys' from the Big Apple.
"In Washington, the advertising is more public service oriented," Carberry explained. Projects advocated for cancer research, diabetes, U.S. Treasury bonds, and more.
And his relationship with the Marines continued. By the time he retired in 1992 at the rank of Colonel, Carberry was Chief of Staff of the Reserve's Force Service Support Group – the logistical arm of the USMCR, with about 10,000 support staff. As he called it, the group included "beans, bullets, and band-aids" – everyone from doctors and dentists to tank repair workers.
His time in the Marines fostered leadership skills he has carried through his career, to various firms including Henry J. Kaufman & Associates, Earle Palmer Brown and CARMA International Inc. Those attributes even applied to a six-year stint coaching MSI soccer in Montgomery County.

"The Marines taught me problem-solving skills, and how to deal with people," Carberry explained. "The Marines gave me confidence - more than I had before - and a solid work ethic. There's no such thing as a 9-to-5."
An Executive-in-Residence in the Marketing department, Michael Carberry currently teaches Principles of Marketing to undergraduates and Integrated Marketing and Communications to graduate students.