Research
Cornaggia's Research Focuses on Firms in Financial Distress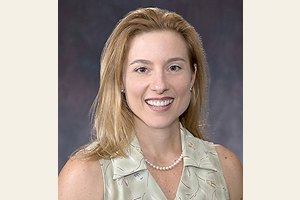 When the Dodd-Frank Act was signed into law in July 2010, some of its sweeping new provisions were regulations on the use of credit ratings from the so-called "Big Three": Moody's, Standard & Poor's, and Fitch.
Financial regulators heavily rely upon these agencies' ratings to determine the seaworthiness of an investment, but these organizations have led them astray in the past. One of the most notable was the downfall of Enron Corporation in late 2001. The Big Three rated Enron "investment grade" until four days before it declared bankruptcy—leading to one of the biggest, most complex bankruptcy cases ever.
Dodd-Frank required every federal agency to review their use of credit ratings in regulations, and to substitute an appropriate "standard of credit worthiness." Unfortunately, that's as specific as it gets.
Associate Professor Kim Cornaggia and her research partner have been hard at work on the issue. The pair just submitted a manuscript for review that examines the differing information content of ratings produced by Moody's, one of the Big Three nationally-recognized statistical ratings organizations, and ratings produced by Rapid Ratings, Inc., a new, independent credit rating agency.
What they found is that the two ratings services fulfill two very different market needs. 
Findings
Issuers pay for Moody's ratings—a business model that leads to potential conflicts of interest. Moody's also only focuses on rank ordering—that is, whether one investment is riskier than another in a pecking order. It does not focus on absolute levels of risk in a larger context. 
On the other hand, Rapid Ratings uses a subscriber-based compensation structure (think: Consumer Reports) and relies entirely on quantitative models to establish a rating.
Cornaggia determined that the independent rating provides more timely information. However, regulated investors—such as banks, insurance companies, and pension funds—benefit from Moody's less-frequent ratings fluctuations, since this allows them to hold riskier bonds and potentially earn higher returns.
(Veiled) risk equals reward, the institutional investors hope. Turns out it's true: "Moody's portfolios generate annual returns that are as much as 3.1 percent higher than the Rapid Ratings portfolios. These returns are a reward for bearing more risk," Cornaggia writes.
Cornaggia's research has primarily focused on the corporate bankruptcy process. 
"Almost everything I've done is in some way related to financial distress," she said. "All of this work came out of a dissertation that I wrote to earn my PhD ten years ago. I developed a lot of ideas, questions that I didn't know the answer to. I've basically spent the last 10 years trying to answer those questions."
A paper on the contagion effects of bankruptcy—which examined its spillover effects down the supply chain—won the prestigious Fama–DFA Prize for Best Paper published in the Journal of Financial Economics. "It doesn't matter why a firm goes bankrupt—it's bad for their suppliers. But not necessarily for the customers," Cornaggia explained.
Real-World Relevancy
The applicability of her academic research is important to Cornaggia.
Another project studied how modern changes in accounting principles have affected accounting-based bankruptcy predictions. For example, expensing research and development often makes  healthy firms investing in research assets look distressed. 
Cornaggia and fellow researchers made adjustments to predictive financial models that improved the predictability of bankruptcy. Cornaggia says this type of model is often put to use by MBA students and other current and future business leaders. The paper, which was published in the Journal of Finance, made "recommending reading" lists at various investment banks, including Lehman Brothers.
"Practitioners are reading it, and it's going to impact the way they think about risk, and the way they do their jobs," Cornaggia said. "And that, to me, is quite rewarding."
Firm Viability
The viability of firms pre- and post-bankruptcy has been a common theme throughout her work. For example, can you determine how likely a firm is to be successful in restructuring after bankruptcy? It's a central question for all parties involved; no one wants to spend three years in court trying to fix what's undeniably broken.
Firms spend less time in Chapter 11 if they're smaller, have better operating performance, and are in higher-operating-margin industries (say, the cosmetics industry). If they can significantly reduce both assets and liabilities in Chapter 11, they are more likely to achieve profitability post-reorganization.
Cornaggia's findings, published in the Journal of Financial and Quantitative Analysis, suggest that firms with promise can successfully reorganize.
Chapter 11
What about the bankruptcy process itself—do Chapter 11 reorganizations do a good job of allowing firms a "fresh start"?
"The answer should theoretically be yes," Cornaggia said. "That's what the bankruptcy process is for."
In a paper published in Financial Management, Cornaggia and co-authors purport that there are barriers in Chapter 11 that prevent firms from completely resetting their capital structures.
"We find that high debt is really sticky," she summarized. "Even after a long restructuring process, firms come out of that with more debt in their capital structure than we would predict, based on what other firms in their industry have."
They also found that firms with higher debt levels are the ones that emerge fastest from Chapter 11. It may seem counterintuitive, but it's often easier to remedy financial distress—simply put, a firm with difficulty meeting its debt obligations—rather than economic distress, when a firm has a large drop in earnings. The latter may be indicative of a shift in the firm's industry; for example, movie-rental company Blockbuster, which faced major industry upheaval when it filed for bankruptcy in September 2010.
About Kimberly Cornaggia
Prior to joining the Kogod faculty, Cornaggia taught at the Stern School of Business at NYU, the Pennsylvania State University and the College of William & Mary. She has also served as a visiting scholar in the Office of Economic Analysis at the United States Securities and Exchange Commission.