Achievements
Undergraduate Team Advances in CFA Research Challenge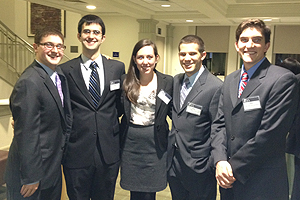 A team of AU undergraduates is preparing for a trip to New York City—and a global finance championship is ultimately at stake.
Seth Borko, KSB '12, Kristen Dales, KSB '12, Omar Eltorai, KSB/CAS '12, Mark Kruzel, KSB/SIS '12, and John Stefos, SIS/KSB '12, will compete in the regional Chartered Financial Analyst (CFA) Research Challenge on April 10. A win at the regional level will guarantee a spot in the global final on April 11.
They have reason to be confident: the team took first place in the local Investment Research Challenge, where five other schools competed in the event hosted by the CFA Societies of Washington, D.C., and Baltimore.
Each team submitted a written sell-side equity analyst report and presented their work to a team of industry judges.
"Our strategy was to rely heavily on fundamentals, rather than the typical market consensus, which drives many investors," said Kruzel. "We felt a solid base in financial theory would differentiate us from the typical sentiments you would find from people working at the major financial institutions."
Apart from being friends before the competition, each of the team members has served on the executive board of the Kogod Student Managed Investment Fund (SMIF)—where they gained investment experience that helped them during the competition.
"SMIF gave us a particular advantage, not only in writing, but also in presenting and arguing our positions in an environment that thrives on challenge and constructive criticism," said Eltorai.
Associate Professor Gerald Martin, the team's faculty advisor, said the judges "had particularly high praise for the team and their exceptional, very professional, and insightful pitch."
"Each of us walked out of the presentation extremely happy with our performance," said Dales. "Beyond being able to represent American University, which was a highlight in and of itself, we all experienced some great times working together on the project.
Last year, more than 2,500 students from 546 universities in 45 countries around the world participated in this three-tiered, annual event.
The CFA Institute is a global, nonprofit association of investment professionals whose mission is to lead the investment field. It is the entity that awards the CFA designation, a certification within the investments community.