Business
Dean Presents Alumni Awards at Annual Dinner
Dean Michael Ginzberg bestowed awards on two Kogod alumni last month for their steadfast and exemplary commitment to the school and its students.
The annual Dean's Dinner celebration brings together select alumni and donors to recognize their contributions to the business school's success. Along with the dean, President Neil Kerwin and Provost Scott Bass addressed the assembled guests in the Katzen Rotunda.
Dean's Alumni Award
Marc Duber, BSBA '81, received the 2014 Dean's Alumni Award, which honors an alumnus who has exemplified outstanding service to his school, community, and field.
"I am incredibly grateful for the education, knowledge and relationships I gained by attending [Kogod]," he said. "They set me on a course for a life I that I love and truly appreciate both personally and professionally. Giving back to AU and Kogod had always been a goal I had aspired to and it is something that gives me great pleasure."
Duber serves as executive vice president and COO at The Bernstein Companies, which specializes in commercial real estate development, investment, and management in the Washington, D.C. area.
He also serves on the University's Board of Trustees and the Kogod School of Business Dean's Advisory Council. Leveraging his real estate expertise, Duber sits as chairman of the Real Estate Subcommittee for the university, where he aids in the oversight of the development of university property and facilities.
Additionally, Duber is a board member of MedStar Health and Arena Stage.
Community Leadership Award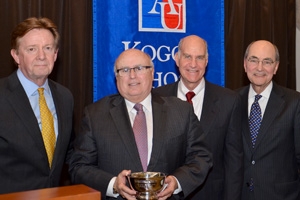 The 2014 Community Leadership Award went to Richard Clark, MBA '70. The award honors an alumnus demonstrating exemplary leadership and dedication to making a positive and lasting impact in his work and community.
Clark previously served as president, CEO, and chairman of Merck before retiring in 2011.
Clark's lengthy career at Merck was defined by his lasting commitment to contribute to his community. He championed "passion, purpose, and commitment to corporate responsibility" during his time leading the company.
"Corporations, as well as individuals have the responsibility to provide support to improve family and community needs," he said. "As leaders we must set the example of giving back as a high priority."
Now retired, Clark has helped launch the Richard T. Clark Fellowship for World Health, which began in 2012. The program is designed to engage Merck and its employees in humanitarian efforts around the globe, helping non-profit organizations by providing additional human capital and necessary resources to accomplish humanitarian missions.
"Giving back is much more than providing financial support," Clark said. "We must share our expertise, resources, and knowledge to allow others to better support humanitarian missions on a more permanent basis."