Professional News
Professional MBA Program Director Leads From Experience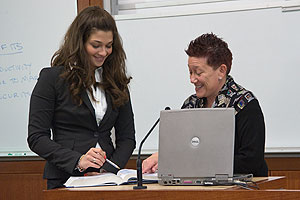 Jill Klein is all too familiar with the challenges of balancing a busy life. The new Professional MBA Program Director juggled a demanding full-time job in the banking sector while having her second child and completing her MBA. That's why she's excited to offer incoming students the chance to take advantage of an innovative new part time MBA format.
"With class only one evening a week, an MBA becomes feasible for those who might have thought it was too big a commitment," Klein said. "People think: 'I can do that.'"
An executive-in-residence in the Information Technology department, Klein brings 30 years of IT and banking management experience to Kogod. The program's chief advocate, she understands how the prospective student wants to learn: quickly and conveniently.
With a duration of only 27 months, the redesigned Professional MBA program is unique in the Washington, D.C. market.
"The new Professional MBA program is an opportunity for Kogod to offer what full-time working professionals want—to advance their careers and still keep their day jobs," Klein said.
All students need to do is come prepared and willing to work hard. "We take the edge off so they can focus on learning," Klein said.
Concierge services will include a light meal before each evening class, textbook and software purchases, and course registration handled by an academic advisor. A comprehensive, all-inclusive tuition fee covers these services, as well as a short-term global learning experience built into the curriculum.
The cohort-based program is 48-credit hours of fixed coursework taken over seven consecutive semesters.
"The distinct delivery and all-inclusive nature—the level of support, in particular—is what sets us apart," Klein said.
Klein will be this part time MBA program's champion, responsible for creating the learning environment, establishing the instructional design, and assembling the technology toolkit.
"Working professionals are extremely focused and know what they want out of a graduate program," Klein said. "We are offering a unique way for this group to achieve their aspirations."