Mark France – Fund Manager
Born in Cincinnati, Ohio, Mark came to American University in 2011 to earn a degree in business. He quickly developed an interest in finance, securing internships in Asset Management and Investment Banking as an underclassman. He first joined SMIF as an Analyst his junior year, enjoying the challenge and camaraderie of the fund. Mark will begin working for J.P. Morgan upon graduation in New York City.
Jake Weinreb – Portfolio Manager 
Jake Weinreb is a senior majoring in Math and Economics. Taking part in his fifth semester in SMIF, Jake looks forward to his new role as Portfolio Manager. The skills and knowledge gained from his experience with SMIF have landed him a job as an Investment Analyst for an investment advisory firm in Bethesda, Maryland upon graduation. Having passed the first level of the CFA exam series, he hopes to continue his financial education by taking the second level in June. In his spare time, Jake enjoys playing soccer, golfing, and reading.
Paul T. Jung - Chief Risk Officer and Chief Investor Relations Officer 
Paul Jung is in the final year of the Master of Science in Professional Sciences in Quantitative Analysis program, specializing in financial mathematics. With interests in actuarial sciences, his research interests include derivatives, economic forecasting, information rigidity, risk assessment, and ForEx trading. Paul currently serves as Chief Risk Officer, providing valuable risk management initiatives relevant to intraday fund performance, and dually serves as the Investor Relations Officer. In future endeavors he plans to launch a quantitative Private Equity firm specialized in investing in South Korean based companies. Outside of SMIF Paul enjoys following politics, reading, rock climbing, running, and following baseball.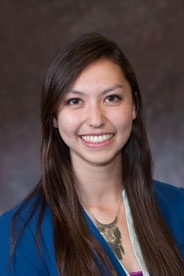 Anna Meh Feindt

Anna Meh Feindt – Operations Manager
Anna Meh Feindt is currently a Junior in the Bachelor of Science in Finance program, with plans to graduate in December 2015. This is her second semester as part of SMIF and first semester on the executive committee. Outside of SMIF and other coursework, Anna Meh is involved with the Kogod 1955 Club, is a Teaching Assistant for Business Finance, and interns for an investment advisory firm in Washington, D.C. She is eager to continue learning and to utilize these skill sets in the real world. In her free time Anna Meh enjoys catching up with friends, visiting museums and baking.
Erin Davis – Technology Initiatives Manager
Erin Davis is a dual-degree graduate student who will earn an MBA from the Kogod School of Business and a Master of Science in International Development from the School of International Service (SIS) in May 2015. Erin has spent the past three years pursuing both academic and professional experiences in social finance, impact investing, and international business and will continue to do so upon graduation. She has an entrepreneurial spirit and, after spending two semesters with the Student Managed Investment Fund, created the new role of Technology Initiatives Manager in order to innovate within SMIF, streamline operations, and ultimately provide a rich learning environment for each student.