Frederick Douglass Distinguished Scholars Program
4400 Massachusetts Avenue NW
Washington
,
DC
20016-8119
United States
LARRY P. THOMAS MANAGING DIRECTOR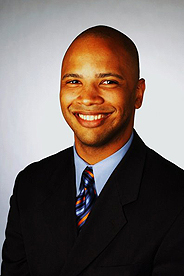 Larry P. Thomas, managing director of the Frederick Douglass Distinguished Scholars (FDDS) program, is one of the most influential and admired leaders in American higher education today.
Known for over 20 years of success in professional and leadership development, hundreds of undergraduate, graduate, and professional students from around the world have relied on Thomas for exceptional guidance, mentorship, and sponsorship. Before coming to American University, he directed the Collegiate Science and Technology Entry Program (CSTEP) at Syracuse University for nearly a decade. Under Thomas' extraordinary leadership, the program enjoyed record levels of enrollment, raised the cumulative grade point average of its students from 2.3 to 3.2+, and achieved the highest graduation rates in 22 years. His high standards, common sense, and fresh approach to student development resulted in unprecedented progress for CSTEP, including the lowest student attrition rates and the highest undergraduate-to-graduate school enrollment rates in program history. Since 2009, Thomas has led the establishment of the award-winning FDDS program as its founding director, on a mission to elevate the intellectual curiosity, social responsibility, and success of enterprising students for post-baccalaureate education, impactful citizenship, and lifelong achievement.
Thomas' accomplishments in higher education include being named a 2016 Aspen Ideas Festival Scholar; receiving the 2015 Voice of Inclusion Medallion from the American College Personnel Association; and being the first graduate student and African American to receive a Senior Vice President for Student Affairs "Students First" Award at Syracuse University.
Other accomplishments include:
liaising with the White House to facilitate Florida State University's participation in President Clinton's One America Initiative
receiving the Faculty and Staff Inspiration Award at the Chancellor's Awards for Public Service at Syracuse University
establishing Syracuse University's weeklong celebration of the life and legacy of Rev. Martin Luther King, Jr. - "I Have a Dream" Week
founding the African American Male Congress, the nation's first undergraduate honor society for black males
Thomas previously served as associate director of the Office of Graduate Preparation Programs at Syracuse University, area coordinator for College House and Conference Services at the University of Pennsylvania, and residence coordinator at Florida State University. He has taught courses in sociology and psychology at Drexel University, and written about leadership and higher education for the Huffington Post, the Post Standard, and Syracuse University Press.