Alumni Profile
Student Ambassador Leaves Legacy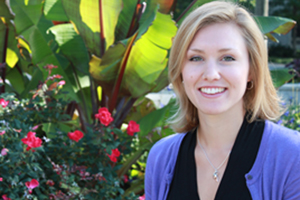 When Lauren Anderson, graduated in May with a BA in Public Communication, she "left her mark on American University in the form of hundreds of students who decided to apply and ultimately enroll at AU as a result of their interaction with a SOC Student Ambassador," says Jill Heitzmann, senior advisor for undergraduate recruitment and retention.
Over her four years at AU, Anderson had a host of internships and a year studying abroad in Paris, in addition to extracurricular work as a student ambassador.
"AU provides great resources, but it's really up to you," Anderson said. "AU gave me a lot of opportunities, but I think I've been good at capitalizing on them."
Anderson left the School of Communication with a full-time position at Fifth Estate, a small communications and PR firm in Takoma Park , Md., started by SOC professor Scott Ward, whose PR class Anderson took her sophomore year.
Anderson had emailed Ward, asking him to review her resume, and instead was offered an internship. "That was kind of the springboard for it all," she said.
As she completed her capstone project, creating a PR portfolio for a nonprofit organization in D.C., Anderson reflected on her experience, and her decision to switch from an initial journalism focus to public communication.
"The public communication program was a little more versatile for me," she said. "It's a good blend of writing and creative thinking, it kept me challenged."
One of Anderson's professors in the Honors Program, Lenny Steinhorn, said that her understanding of how the strategic mind works contributed to her success in the classroom.
"She understands how you reach someone emotionally. I think that's something that really motivated her and opened some vistas for her."
Anderson became a student ambassador her freshman year, and worked her way up to a newly created paid position as an SOC Student Coordinator for the program.
"I was looking for a way to get more involved at AU," she said. "I like working with people, feeling like I'm a part of something."
Anderson sees the value of the program for prospective and incoming students, as she's helping them to get acclimated to college life and make the best decisions for success. She encourages new students to think past the initial panic that can sometimes ensue when entering college, and think about opportunities a school can offer you in the long run. "Try to picture what you want your life to look like for the next four years," she said. "Not just what you want initially, but what you'll want eventually."
In her new position, she worked with Heitzmann closely.
"The way I interact with her is the same way I interact with my colleagues," she observed. "The work she's doing is really formalizing the program, making it into something sustainable. She's just done such a great job."
Steinhorn believes Anderson's on the road to success. "There's something very sunny and optimistic about Lauren," he said. "She does think very deeply about the ideas and concepts she's learned here, and she's received an education in the best sense of the word."