On Campus
Books and Beyond: AU Project 2030, Academic Exploration for the Future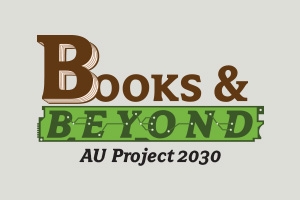 AU Library will hold its next installment of Books & Beyond later this month. Books & Beyond was created in 2011 to highlight faculty publications and projects that go "beyond" traditional boundaries of medium or discipline. Past events have highlighted faculty scholarship as well as provided guidance for graduate students and faculty seeking to publish in competitive journals.
This year's event marks the start of a rich collaboration with the Office of the Provost to spotlight AU Project 2030. AU Project 2030 identifies and promotes work in groundbreaking areas of scholarly exploration with a special emphasis on cross-disciplinary and emerging fields. Provost Bass will set the stage with a discussion of the goals of AU Project 2030 and its significance for American University. Faculty project leaders for two of the initiatives will discuss their inspiration, vision, and some of the findings of their projects. The featured talks will be "Ennobling and enabling: Walking the talk of disability technology, policy and education" by Derrick Cogburn (SIS), Sarah Irvine Belson (SETH) and Laura DeNardis (SOC) with Maya Aguilar (IDPP), and "The Environmental and Biological Bases of Cognitive Dementia" by Anthony Riley (Psychology/CAS) and Terry Davidson (Psychology/CAS).
Books & Beyond: AU Project 2030 will take place on Wednesday, Feb. 27 from 2 to 4:30 p.m. in the SIS Abramson Family Founders Room. Any member of the AU community can RSVP to Lennea Bower, library Programming Coordinator, at 202-885-3847 or LibEvents@american.edu. Questions about this event or requests for information can be directed to LibEvents@american.edu. 
More on Featured Talks
Ennobling and enabling: Walking the talk of disability technology, policy and education
This talk provides the grounding for the three key elements of our AU 2030 project, grounded in our shared commitment to advancing the rights of individuals with disabilities. First, Derrick Cogburn (SIS) will discuss the global environment and cyberinfrastructure used to achieve the goals and the Institute on Disability and Public Policy (IDPP) for the ASEAN Region and the pathbreaking Masters of Comparative and International Disability Policy (CIDP). Next, Laura DeNardis (SOC) will provide the context relative to Internet Governance, particularly as it relates to global standards for accessibility of the Internet and information and communication technologies. The session ends with Sarah Irvine Belson (SETH) illustrating how creating educational opportunity for children with disabilities is a key aspect of our endeavor for basic human rights.
The Environmental and Biological Bases of Cognitive Dementia
Behavioral neuroscientists tackle disorders of the brain and behavior that are among the most costly, pernicious, and widespread threats to human health and the quality of life. None of these may have more devastating effects on the lives of their victims and the victim's families than Alzheimer's disease (AD) and AD-like cognitive dementias. The incidence of AD and other cognitive dementias is expected to nearly double by 2030 and to nearly double again by 2050. There is a critical need to discover the etiology of these disorders of brain and memory and to identify interventions that will prevent or slow the onset of this looming epidemic. This talk will present evidence that links brain pathology and cognitive decline to the consumption of diets that are known to produce obesity and to the use of certain addictive drugs. We will also describe how these diets and drugs weaken the brain's defenses, which leads to abnormalities in structures that are critical for cognitive functioning. By developing needed intellectual resources and infrastructure now, we see American University in 2030 as a place that is recognized worldwide for advancing understanding of the causes of dementia and cognitive decline and for identifying new and effective strategies for preventing or remedying these disorders.